Edition: February 19, 2019
Resources
News by Sector
Economy
Government Operations
Multiculturalism
Services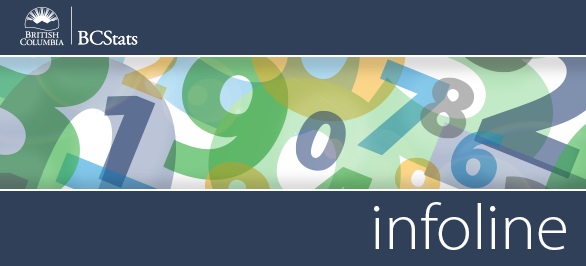 Infoline Highlights: Coverage for the week of February 11-15

Employment Services - B.C. businesses are increasing their use of employment services. The province's employment services industry group realized total operating revenues of $1.0 billion in 2017, a substantial boost (+11.9%) over 2016.
Read more >>

Price of New Housing - The cost of new housing in B.C.'s largest metropolitan area slipped 0.2% in December, marking the first decline since March of 2015. Vancouver's cost of land was unchanged (+/-0.0%) from December of 2017, but building prices were down 0.5%.
Read more >>
Manufacturing Sales - Manufacturing sales in B.C. slipped 3.1% (seasonally adjusted) in December. Sales of manufactured food (-4.0%) and paper (-10.4%) products were notably lower, driving total receipts for non-durables down 4.7%.
Read more >>



Victoria's price of new housing rose 1.0% in December over December 2017, while Metro Vancouver's dropped 0.2%, marking the first decline since March of 2015.

Follow @BCStats on Twitter


Current Surveys
BC Hydro Workforce Profile Survey
BC Public Service Exit Survey
BC Public Service New Job Survey
BC Student Outcomes Survey of Apprenticeship and Trades Training Students


BC Student Outcomes Survey of Diploma, Associate Degree and Certificate Students

CABRO Diversity

Canada-BC Job Grant Outcomes Survey
Diversity and Inclusion Survey

FrontCounter BC Customer Satisfaction Survey
Labour Market Agreement for Persons with Disabilities Outcomes Survey


Long Term Disability (LTD) Application Process Survey

New Entrants to Agriculture

School District No. 22 (Vernon) Employee Engagement



Service BC Contact Centre


Service BC Registries and Online Services



You can read more about any of these by visiting our Current and Recent Surveys page.



Did You Know
We're looking for your feedback! Please take BC Stats' short survey to help us understand how you use our Infoline e-newsletter, webpages, and/or Twitter. Your input will help us ensure that our communications tools meet your needs.
Take the survey


Headlines
B.C.'s employment services industry was growing in 2017.

Vancouver's price of new housing dropped in December from the same month the year before, while Victoria's grew.

Manufacturing sales in B.C. slowed in December.