Edition: February 20, 2017
Resources
News by Sector
Economy
Government Operations
Multiculturalism
Services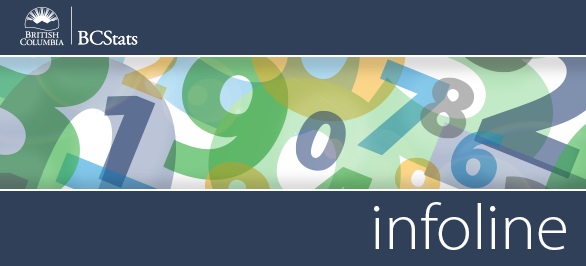 Infoline Highlights: Coverage for the week of February 13-17

Real Estate - B.C.'s real estate agents and brokers industry saw total operating revenue reach $2.1 billion in 2015, up 21.2% from 2014. The industry recorded operating expenses of $1.4 billion, such that the overall operating profit margin stood at 34.2%.
Read more >>
Employment Insurance - The number of British Columbians receiving regular Employment Insurance (EI) benefits dropped 1.6% (seasonally adjusted) in December, to 54,950. Nationally, the number of EI recipients inched down 0.6%, to 568,790. The number of beneficiaries was down in most provinces across the country.
Read more >>
Manufacturing Sales - Manufacturing sales in British Columbia ended the year on a low note, slipping 1.5% to $4.0 billion (seasonally adjusted) in December, following a 2.5% boost in November. The decline was mostly reflected in the wood (-4.4%) and paper (-3.3%) industries.
Read more >>



Current Surveys
Apprenticeship Student Outcomes (APPSO) Survey
Baccalaureate Graduate Survey
BC Hydro Workforce Profile Survey
BC Public Service Exit Survey
Canada-BC Job Grant Outcomes Survey
Diploma, Associate Degree, and Certificate Student Outcomes (DACSO) Survey
FrontCounter BC Customer Satisfaction Survey
Labour Market Agreement for Persons with Disabilities Outcome Survey
Legal Services Society 2017 Work Environment Survey

Long Term Disability (LTD) Application Process Survey
Ministry of Finance Revenue Services Client Satisfaction Survey 2016/2017
Office of the Auditor General 2017 Work Environment Survey

SDSI LMAPD Monthly Survey 2016-17
Service BC Citizen Satisfaction Survey 2016/2017
Service BC Registries and Online Services Survey

You can read more about any of these by visiting our Current and Recent Surveys page.



Did You Know
Although almost half (45%) of Canadians aged 55 and older are concerned that their savings are short of what they will need for retirement, only 1 in 3 of these people are planning on changing their lifestyle to address this.
Source: Ipsos Canada


Headlines
Revenues for B.C.'s real estate and brokers industry climbed in 2015.

The number of people in B.C. receiving EI benefits declined in December.

Sales for B.C.'s manufacturing industry were lower in December.