Edition: February 24-28, 2020
Resources
News by Sector
Economy
Government Operations
Multiculturalism
Services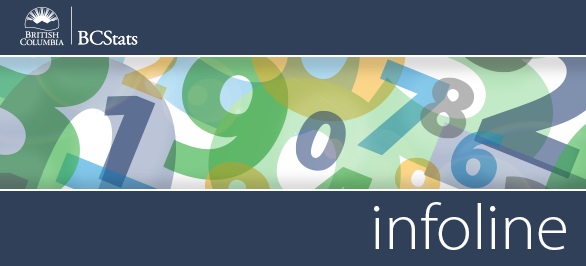 Infoline Highlights for the Week of February 24-28

Industrial Product Price Index - Prices for Canadian manufactured goods were 0.5% higher in January compared to the same month of 2019. Energy and petroleum (+4.9%) and, to a lesser degree, meat, fish, and dairy (+4.0%) and primary non-ferrous metal (+3.5%) products were the main causes of the overall inflation.
Read more >>
Gross Domestic Product -Canadian real gross domestic product (GDP) by industry at basic prices (seasonally adjusted) expanded (+0.3%) in December, building on a slight (+0.1%) increase recorded in November. Goods-producing industries were up 0.3% in December, as a decline in the utilities (-0.5%) sector was more than offset by gains in mining, quarrying and oil and gas extraction (+1.3%), manufacturing (+0.4%) and construction (+0.2%).
Read more >>
Average Weekly Earnings - Average weekly earnings of payroll employees in British Columbia (seasonally adjusted, current dollars) remained virtually unchanged in December 2019 compared to the previous month at $1,011.93. Compared to December 2018, average weekly earnings in British Columbia increased by 3.7%, ranking fourth among provinces.
Read more >>
Police-Reported Hate Crime- Police-reported hate crimes in British Columbia fell from 255 in 2017 to 248 in 2018, a decline of 2.7%. The decrease was entirely due to fewer hate crimes targeting religion, which fell by 33.0% to reach 69 incidents in 2018.
Read more >>

Selected Federal Election 2019 Statistics - Around three quarters (76%) of British Columbians turned out to vote in the 2019 Federal Election, just below the national average of 77%. This is three percentage points below the turnout in the 2015 federal election where 79% of British Columbians cast a ballot.
Read more >>
Building Investment- Total investment in building construction in B.C. stalled in December, decreasing 1.8% (seasonally adjusted) to $2.7 billion. Investment in non-residential building construction in the province was slightly lower than in November (-0.1% to $794 million), as spending on new buildings eased in the commercial (-0.5%) and institutional (-1.1%) sectors, offsetting strength in industrial activity (+4.6%).
Read more >>

Wholesale Sales- Sales by wholesalers in the province ended the year on a low note, stalling in December (-0.3%). Nationally, the value of wholesale sales edged up 0.9%, as higher sales in the two largest provinces offset weakness in other parts of the country.
Read more >>




Current Surveys
BC Hydro Workforce Profile Survey
BC Public Service Work Environment Survey

BC Smoking Cessation Program




BC Student Outcomes Survey of Apprenticeship and Trades Training Students




BC Student Outcomes Survey of Diploma, Associate Degree and Certificate Students

CABRO Diversity


City of Victoria Employee Engagement

Legal Aid BC Work Environment Survey




K-12 School Food Survey

Liquor Distribution Branch Work Environment Survey

Workforce Development Agreement Outcomes

Workforce Development Agreement Employer Outcomes



You can read more about any of these by visiting our Current Surveys page.



Did You Know
The accommodation services subsector grew 4.5% in 2018 compared to 2017, with Ontario generating the most revenue, (29.5%), followed by British Columbia (21.3%), Alberta (19.0%) and Quebec (15.6%).

Source: Statistics Canada


Headlines
Canadian gross domestic product rose slightly in December from the month before.

The average weekly earnings of B.C.'s employees grew in December 2019 compared to December 2018.

The value of investment in B.C.'s building construction decreased in December from the month before.