Edition: February 25-March 1, 2019
Resources
News by Sector
Economy
Government Operations
Multiculturalism
Services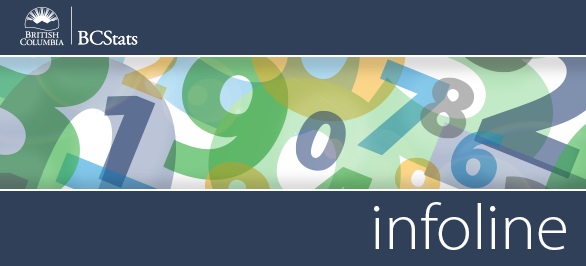 Infoline Highlights: Coverage for the week of February 25-March 1

Gross Domestic Product - Canadian real GDP by industry at basic prices (seasonally adjusted) fell 0.1% in December*, following a 0.1 decline in the previous month. This was the third decline in four months.
Read more >>
Industrial Product Price Index - Canadian manufacturers' prices were higher (+1.0%) this January than in the same month of 2018. A 3.8% year-over-year upturn in the price of motorized and recreational vehicles was the largest contributor to the increase, and price boosts for primary ferrous metal (+14.5%) and pulp and paper (+8.0%) products also exerted upward pressure.
Read more >>
Average Weekly Earnings - Average weekly earnings (including overtime) of payroll employees in British Columbia were $982.21 in December (seasonally adjusted, current dollars), $1.40 more than in the previous month (+0.1%). Nationally, employee wages averaged $1011.72, a slight rise of 0.1% over the previous month.
Read more >>
Consumer Price Index - British Columbia's consumer price index (CPI) was 2.4% higher (unadjusted) in January 2019 than in the same month of 2018. On a monthly basis, the rate of inflation inched up 0.1% from December 2018.
Read more >>
Bankruptcies - There were 273 bankruptcies filed by consumers in British Columbia in December, a slight (-6.5%) decrease from the same month of 2017. Meanwhile, the number of business bankruptcies was notably lower, falling 28.6% to five. Read more >>


B.C.'s consumer price index was 2.4% higher in January than in January 2018, due in part to higher prices for food (3.0%) and shelter (3.1%).

Follow @BCStats on Twitter


Current Surveys
BC Council on Admissions & Transfer Survey of Mobile Students



BC Hydro Workforce Profile Survey
BC Public Service Exit Survey
BC Public Service New Job Survey
BC Student Outcomes Survey of Apprenticeship and Trades Training Students


BC Student Outcomes Survey of Diploma, Associate Degree and Certificate Students

CABRO Diversity

Canada-BC Job Grant Outcomes Survey
Diversity and Inclusion Survey

FrontCounter BC Customer Satisfaction Survey
Labour Market Agreement for Persons with Disabilities Outcomes Survey


Long Term Disability (LTD) Application Process Survey

New Entrants to Agriculture

School District No. 22 (Vernon) Employee Engagement



You can read more about any of these by visiting our Current and Recent Surveys page.



Did You Know
in 2017, B.C.'s non-profit sector accounted for 8.4% of the province's GDP, just below the national average of 8.5%
Statistics Canada


Headlines
Canada's GDP fell slightly in December for the third month in a row.

The Industrial Product Price Index rose in January over January 2018.

Payroll employees in B.C. earned more in December over the month before.