Edition: February 26, 2018
Resources
News by Sector
Economy
Government Operations
Multiculturalism
Services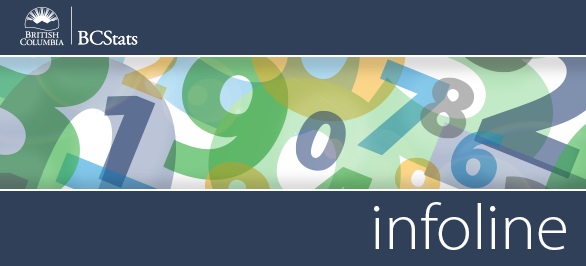 Infoline Highlights: Coverage for the week of February 19-23

Consumer Price Index - British Columbia's consumer price index (CPI) rose 2.1% (unadjusted) in January compared to the same month of the previous year.
Read more >>
Wholesale Sales - Wholesales in British Columbia went up by 9.7% in 2017 compared to the prior year, to reach $76.6 billion.
Read more >>
Retail Sales- Sales at British Columbian retailers grew 9.6% in 2017, the highest annual growth rate since 1994 and the largest increase among provinces.
Read more >>
Visitor Entries- The number of non-resident travellers to B.C. went up 3.6% in 2017, with the number of travellers from the United States increasing by 2.8% and the number of travellers from other countries increasing by 5.7%.
Read more >>
Food Services & Drinking Places- Receipts from food services and drinking places in British Columbia went up by 7.7% in 2017 compared to the prior year, to reach $11.3 billion.
Read more >>
Average Weekly Earnings- British Columbia average weekly earnings grew by 2.5% in 2017, to reach $942.01.
Read more >>



@BCStats on Twitter
In 2017, B.C. saw the largest percentage increase (7.7%) in food services and drinking places' sales among the provinces.

Follow @BCStats on Twitter


Current Surveys
Baccalaureate Graduate Survey
BC Hydro Workforce Profile Survey
BC Public Service Exit Survey
BC Public Service Work Environment Survey
BC Student Outcomes Survey of Apprenticeship and Trades Training Students
BC Student Outcomes Survey of Diploma, Associate Degree and Certificate Students
Canada-BC Job Grant Outcomes Survey
FrontCounter BC Customer Satisfaction Survey
Labour Market Agreement for Persons with Disabilities Outcome Survey
Long Term Disability (LTD) Application Process Survey
New Job Survey
Office of the Auditor General Work Environment Survey
Social Development and Poverty Reduction (SDPR) LMAPD Monthly Survey
U-Pass BC Survey
You can read more about any of these by visiting our Current and Recent Surveys page.



Did You Know
British Columbia had the highest job vacancy rate among provinces and territories at 3.4% (tied with Yukon) in 2016. British Columbia also had a high percentage of long term vacancies (positions vacant for 90 days and over) at 9.7%.
Source: Statistics Canada


Headlines
Consumer prices in B.C. rose in January compared to the prior year.

Wholesale and retail sales in British Columbia went up in 2017 compared to 2016.

Visitor entries into B.C. went up in 2017, with more visitors from both the United States and the rest of the world.