Edition: February 27, 2017
Resources
News by Sector
Economy
Government Operations
Multiculturalism
Services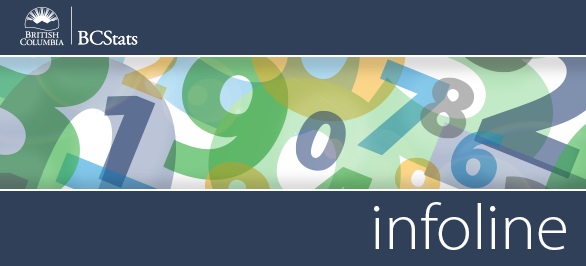 Infoline Highlights: Coverage for the week of February 20-24

Consumer Price Index (CPI) - British Columbia's consumer price index (CPI) climbed 2.3% (unadjusted) in January, compared to the same month of the previous year. This marks an increase in the year-over-year rate of inflation since December, when it was 1.9%.
Read more >>
Investment Income - There were 1,177,720 tax filers in British Columbia who reported investment income in 2015, a decrease of 1.2% from the total in 2014. Those who reported investment income represented 34% of tax filers.
Read more >>
Registered Retirement Savings Plan (RRSP) Contributions - The number of British Columbians who contributed to Registered Retirement Savings Plans (RRSPs) totalled 751,450 in 2015, a 1.2% increase from 2014. The boost in B.C. was among the largest of the provinces, second only to that recorded in P.E.I. (+2.5%). New Brunswick (-0.2%), Saskatchewan (-0.2%) and Alberta (-0.6%) were the only provinces to record fewer contributors in 2015.
Read more >>
Retail Sales - Sales by retailers in the province slipped 0.3% (seasonally adjusted) in December, adding to a similar increase in the previous month. Retailers in many parts of the country did not fare particularly well during the Christmas season.
Read more >>
Wholesale Sales - Sales by wholesalers in the province rose again in December (+1.4%), increasing for the third consecutive month, due mostly to gains in the machinery, equipment and supplies, and the food, beverage and tobacco subsectors. Nationally, the value of wholesale sales edged up 0.7%, as higher sales in three of the four largest provinces offset weakness in other parts of the country.
Read more >>



Current Surveys
Apprenticeship Student Outcomes (APPSO) Survey
Baccalaureate Graduate Survey
BC Hydro Workforce Profile Survey
BC Public Service Exit Survey
Canada-BC Job Grant Outcomes Survey
Diploma, Associate Degree, and Certificate Student Outcomes (DACSO) Survey
FrontCounter BC Customer Satisfaction Survey
Labour Market Agreement for Persons with Disabilities Outcome Survey
Legal Services Society 2017 Work Environment Survey

Long Term Disability (LTD) Application Process Survey
Ministry of Finance Revenue Services Client Satisfaction Survey 2016/2017
Office of the Auditor General 2017 Work Environment Survey

SDSI LMAPD Monthly Survey 2016-17
Service BC Citizen Satisfaction Survey 2016/2017
Service BC Registries and Online Services Survey

You can read more about any of these by visiting our Current and Recent Surveys page.



Did You Know
According to a survey conducted by Ispsos Canada and Resource Works, 83% of British Columbians agree that 'Natural resource development creates opportunities and hope for BC's future', and 80% agree that 'BC's natural resource sector has good opportunities for employment for younger British Columbians'.
Source: Ipsos Canada


Headlines
B.C.'s consumer prices rose in January.

22% of British Columbians contributed to RRSPs in 2015.

B.C. tax filers reported almost $13 billion in investment income in 2015.