Edition: February 3-7, 2020
Resources
News by Sector
Economy
Government Operations
Multiculturalism
Services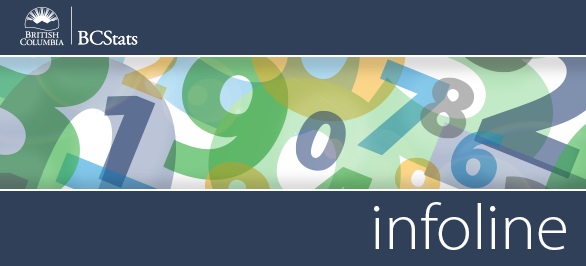 Infoline Highlights for the Week of February 3-7

Labour Force Survey - The unemployment rate in British Columbia was 4.5% in January, down 0.3 percentage points from December and down 0.2 percentage points from 12 months ago. Overall in January, the labour force contracted (‑5,700), while the number of jobs grew (+3,400).
Read more >>
Exports - There was a 6.4% decline in the value of B.C. origin exports in 2019 with reductions in shipments to most major destinations. Exports fell to the United States (‑2.8%), Mainland China (-3.6%), Japan (-12.9%), South Korea (-11.8%), the European Union (-13.2%), India (‑0.2%) and Taiwan (-13.7%).
Read more >>





Current Surveys
BC Hydro Workforce Profile Survey
BC Public Service Work Environment Survey

BC Student Outcomes Survey of Apprenticeship and Trades Training Students




BC Student Outcomes Survey of Baccalaureate Graduates

BC Student Outcomes Survey of Diploma, Associate Degree and Certificate Students

CABRO Diversity

City of Victoria Business Survey

City of Victoria Employee Engagement




K-12 School Food Survey

Office of the Auditor General Work Environment Survey




Workforce Development Agreement Outcomes

Workforce Development Agreement Employer Outcomes



You can read more about any of these by visiting our Current Surveys page.



Did You Know
78% of Canadian respondents would support technology being added to their car (at no cost to them) to prevent impaired driving from drinking, drugs or sleeplessness. British Columbians were among the most likely to agree to this (82%); with respondents from Quebec being the least likely (71%).

Source: Ipsos


Headlines
B.C.'s unemployment rate decreased in January from the month before.

B.C.-origin exports dropped in 2019.