Edition: February 4, 2019
Resources
News by Sector
Economy
Government Operations
Multiculturalism
Services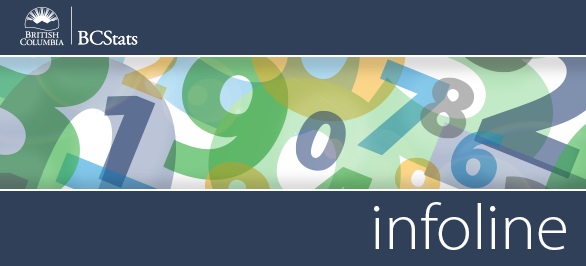 Infoline Highlights: Coverage for the week of January 28 - February 1

Average Weekly Earnings - In November, payroll employees in British Columbia saw their average weekly earnings climb 3.2% relative to November 2017, to $983. The increase was driven by earnings growth in the construction sector.
Read more >>

Industrial Product Price Index - Prices for Canadian manufactured goods were 2.2% higher in December compared to the same month of 2017. Motorized and recreational vehicles (+2.8%) and pulp and paper (+11.4%) products were the main causes of the overall inflation.
Read more >>
Cancer Incidence - There were a total of 24,895 new cases of cancer diagnosed in British Columbia in 2016, a slight increase (+1.6%) compared to the previous year. This makes for an overall (non-age-standardized) cancer incidence rate of 523 per 100,000 population, relatively unchanged from 2015 (+0.2% from 522).
Read more >>
Sub-Provincial Population Estimates - At the provincial level, the B.C. population was estimated at 4,991,687 as of July 1, 2018. B.C.'s population grew by 1.4% between July 1, 2017 and June 30, 2018 – an increase of over 69,500 persons. Regional changes varied from growth of 2.0% to population declines of -2.7%.
Read more >>



Central Okanagan (+2.0%) and Columbia-Shuswap (+2.0%) were the regional districts in B.C. that saw the highest population growth between 2017 and 2018.

Follow @BCStats on Twitter


Current Surveys
BC Hydro Workforce Profile Survey
BC Public Service Exit Survey
BC Public Service New Job Survey
BC Student Outcomes Survey of Apprenticeship and Trades Training Students


BC Student Outcomes Survey of Diploma, Associate Degree and Certificate Students



Canada-BC Job Grant Outcomes Survey
Diversity and Inclusion Survey

FrontCounter BC Customer Satisfaction Survey
Labour Market Agreement for Persons with Disabilities Outcomes Survey


Long Term Disability (LTD) Application Process Survey

New Entrants to Agriculture

School District No. 22 (Vernon) Employee Engagement




Service BC Citizen Satisfaction

Service BC Registries and Online Services



You can read more about any of these by visiting our Current and Recent Surveys page.



Did You Know
2018 has been a record-setting year for organ transplants in B.C. 502 lives were saved through an organ transplant last year, with 100 living donors, and 122 deceased donors (also a record-setting number). As of January 1, 2019, 669 people still remain on the organ transplant list.
Source:

BC Transplant


Headlines
Payroll employees in B.C. saw their average earnings increase in November over November 2017.

In 2016, there was a slight increase in cancer disgnoses in B.C.

B.C.'s population grew between July 2017 and July 2018.