Edition: February 6, 2017
Resources
News by Sector
Economy
Government Operations
Multiculturalism
Services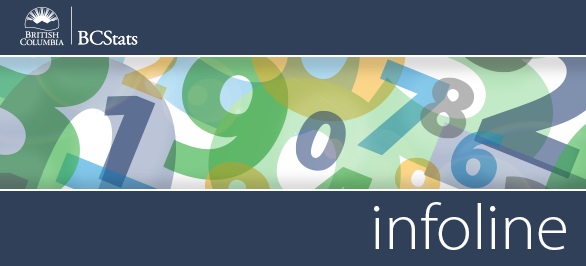 Infoline Highlights: Coverage for the week of January 30-February 3

Gross Domestic Product (GDP) - Canadian real GDP by industry at basic prices (seasonally adjusted) increased 0.4% in November after contracting (-0.2%) in October, as the goods-producing industries rebounded (+0.9%) in November. Manufacturing (+1.4%), mining, quarrying, and oil & gas extraction (+1.4%) and construction (+1.1%) were major contributors to the growth of real GDP.
Read more >>
Food Services and Drinking Places - Receipts at food services and drinking places in B.C. continued to seesaw in November, inching up 0.3% (seasonally adjusted), following a 2.2% decline in October. Canadian sales were also slightly higher (+0.4%) in November, with all but two provinces posting increases.
Read more >>
Industrial Product Price Index - Canadian manufacturers' selling prices were 2.2% higher in December than in the same month of 2015. The increase was mostly attributable to climbing prices for energy and petroleum products (+10.5%), which saw the biggest year-over-year boost since February of 2012. Prices for primary non-ferrous metal (+9.3%) were also notably higher than in December of 2015. Excluding energy and petroleum products, the Industrial Product Price Index would have climbed just 1.1% over the twelve-month period. .
Read more >>


@BCStats on Twitter
Canadian manufacturers receive 2.2% more for their products in December 2016 than in the same month of 2015.
Follow @BCStats on Twitter


Current Surveys
Apprenticeship Student Outcomes (APPSO) Survey
Baccalaureate Graduate Survey
BC Hydro Workforce Profile Survey
BC Public Service Exit Survey
Canada-BC Job Grant Outcomes Survey
Diploma, Associate Degree, and Certificate Student Outcomes (DACSO) Survey
FrontCounter BC Customer Satisfaction Survey
Labour Market Agreement for Persons with Disabilities Outcome Survey
Long Term Disability (LTD) Application Process Survey
Ministry of Finance Revenue Services Client Satisfaction Survey 2016/2017
SDSI LMAPD Monthly Survey 2016-17
Service BC Citizen Satisfaction Survey 2016/2017
You can read more about any of these by visiting our Current and Recent Surveys page.



Did You Know
Improved mental health in the Canadian workplace is on the rise. 76% of Canadians feel that their workplace is a psychologically healthy and safe environment to work in, over 65% in 2009.
Source: Ipsos Canada


Headlines
Goods-producing industries in B.C. rebounded in November, which helped the province's overall GDP increase that month.

B.C. food services and drinking places saw a slight increase in sales in November.

Canadian energy and petroleum products' prices climbed in December.