Edition: January 15, 2018
Resources
News by Sector
Economy
Government Operations
Multiculturalism
Services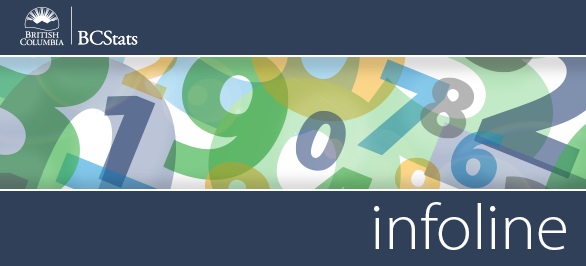 Infoline Highlights: Coverage for the week of January 8-12

Building permits - The value of building permits dropped 13.8% (seasonally adjusted) in November from the previous month. Increases in permits for institutional (+4.4) projects were offset by decreases for industrial (‑30.8%), residential (‑17.5%) and commercial (‑3.9%) buildings.
Read more >>
Housing Starts - Housing starts in urban areas (areas with population of at least 10,000) in British Columbia increased by 10.5% (seasonally adjusted at annual rates) in December compared to November.
Read more >>
Price of New Housing - Relative to the same month of 2016, the cost of new housing in B.C. continued to climb in November, rising by 7.6%.
Read more >>
Incorporations - There were 46,247 businesses incorporated in British Columbia in 2017, an increase of 2,691, or 6.2% from 2016.
Read more >>




@BCStats on Twitter
Housing starts in B.C.'s urban areas increased by 10.5% in December compared to November, mainly due to a rise in apartment starts.

Follow @BCStats on Twitter


Current Surveys
Baccalaureate Graduate Survey
BC Hydro Workforce Profile Survey
BC Public Service Exit Survey
BC Student Outcomes Survey of Apprenticeship and Trades Training Students
BC Student Outcomes Survey of Diploma, Associate Degree and Certificate Students
Canada-BC Job Grant Outcomes Survey
FrontCounter BC Customer Satisfaction Survey
Labour Market Agreement for Persons with Disabilities Outcome Survey
Long Term Disability (LTD) Application Process Survey
New Job Survey
SDSI LMAPD Monthly Survey 2016-17
You can read more about any of these by visiting our Current and Recent Surveys page.



Did You Know
British Columbians have the highest levels of awarness about the opioid crisis among Canadians, with 86% reporting being very or somewhat aware of the issue. Even though over 90% of Canadians would call 9-1-1 if they suspected an overdose, only 28% believe they would recognize the symptoms.
Source: Statistics Canada


Headlines
Industrial, residential and commercial building permits fell in November.

Housing starts in B.C. grew in 2017 compared to 2016.

In November, the cost of new housing in B.C. was unchanged from October.