Edition: January 16, 2017
Resources
News by Sector
Economy
Government Operations
Multiculturalism
Services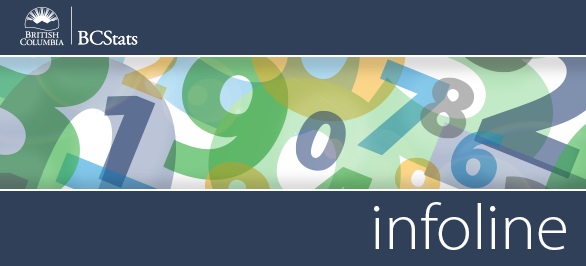 Infoline Highlights: Coverage for the week of January 9-13

Building Permits - The value of building permits issued by B.C. municipalities climbed (+14.7%, seasonally adjusted) in November, adding to a 12.5% boost in October. Residential permits jumped (+21.1%), building on the previous month's (+11.3%) gain.
Read more >>
Price of New Housing -Relative to the same month of 2015, the cost of new housing in B.C.'s two largest cities continued to climb in November of 2016. Home builders in Vancouver received 4.4% more for their projects, and Victoria's housing price index was up 5.1%.
Read more >>
Housing Starts - The number of housing starts in the province's urban areas (population of 10,000+) continue to seesaw, sliding 10.2% (seasonally adjusted) in December, after surging (+74.9%) in the previous month. Canadian starts climbed 11.8%, as some provinces posted increases that were well into the double digits.
Read more >>




Current Surveys
Apprenticeship Student Outcomes (APPSO) Survey
Baccalaureate Graduate Survey
BC Hydro Workforce Profile Survey
BC Public Service Exit Survey
Canada-BC Job Grant Outcomes Survey
Community Living BC Employee Engagement Survey 2017

Diploma, Associate Degree, and Certificate Student Outcomes (DACSO) Survey
FrontCounter BC Customer Satisfaction Survey
Labour Market Agreement for Persons with Disabilities Outcome Survey
Long Term Disability (LTD) Application Process Survey
Ministry of Finance Revenue Services Client Satisfaction Survey 2016/2017
Procurement Transformation Survey (#BCTECH Strategy)
SDSI LMAPD Monthly Survey 2016-17
Service BC Citizen Satisfaction Survey 2016/2017
You can read more about any of these by visiting our Current and Recent Surveys page.



Did You Know
9 out of 10 Canadians buy from brands that they consider tried and trusted. Some of the top trusted brands in Canada include Nestle, Coppertone, Tylenol, Canadian Tire, and Tim Horton's.
Source: Ipsos Canada


Headlines
The value of building permits in B.C. increased in November.

New housing values in B.C. increased in comparison to November 2015.

B.C.'s housing starts dropped in December after rising in November.