Edition: January 19, 2015 Issue 15-02
Resources
Top News by Sector


Issue 15-02: Highlights
Sub-Provincial Population Estimates - The population of British Columbia was an estimated 4,631,302 as of July 1, 2014. The B.C. population grew by 1.1% between July 1st 2013 and June 30th 2014, with an approximate addition of over 49,000 persons.
B.C. Regional Districts - On a regional district basis, Peace River showed the highest regional growth in 2014 (+2.9%) with a boost in population of 1,841 persons. In 2014, population growth in the Central Okanagan district was also strong (+1.8% or 3,345 people).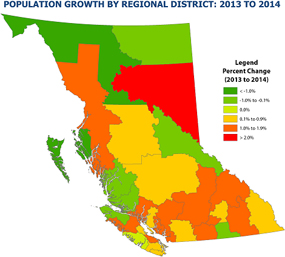 Current Surveys
Apprenticeship Student Outcomes (APPSO) Survey
Baccalaureate Graduate Survey
BC Hydro Workforce Profile Survey
BC International Student Survey
BC Labour Market Agreement Outcomes Survey
BC Public Service Exit Survey
Diploma, Associate Degree, and Certificate Student Outcomes (DACSO) Survey
FrontCounter BC Customer Satisfaction Survey
HealthLink BC and Seniors Advocate Survey 2014
Leveraging WES 2013: Learning from the Best
Long Term Disability (LTD) Application Process Survey
Office of the Auditor General Work Environment Survey 2015
You can read more about any of these by visiting our Current and Recent Surveys page.


Headlines
British Columbia's population was an estimated 4,631,302 as of July 1, 2014, an increase of 1.1% from July 1st, 2013

Peace River had the highest growth rate of the province's regional districts (+2.9%), followed by Central Okanagan (+1.8%)

Surrey attracted more newcomers than any other municipality between July 1st 2013 and June 30th 2014 (+8,991 persons or +1.8%).




@BCStats on Twitter
What did 30,000 former #BC #postsecondary students say about their education in 2013? #bcStudentOutcomes: www.bcstats
Follow @BCStats on Twitter