Edition: January 2, 2017
Resources
News by Sector
Economy
Government Operations
Multiculturalism
Services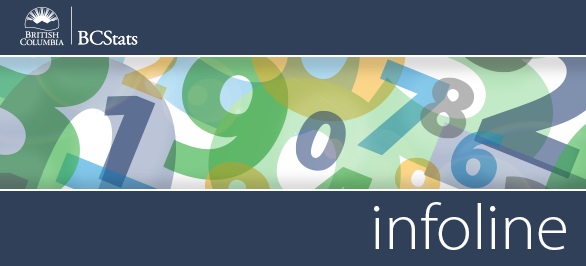 Infoline Highlights: Coverage for the week of December 18-29

Gross Domestic Product - The Canadian economy stalled in October, with real GDP by industry at basic prices unchanged (seasonally adjusted) in October following a slight increase (+0.2%) in September.
Read more >>
Retail Sales - Retailers in British Columbia saw sales increase 2.0% (seasonally adjusted) in October, the seventh increase in the previous eight months. Retail sales were 10.5% higher in October 2017 compared to October 2016.
Read more >>
Consumer Price Index - British Columbia's consumer price index (CPI) rose 2.6% (unadjusted) in November compared to the same month of the previous year. The year-over-year rate of inflation was up 0.2% from October.
Read more >>
Quarterly Population Highlights - The population of B.C. was estimated at 4,841,078 as of October 1, 2017, growing by 23,918 persons in the third quarter of 2017 (up 0.50% from July 1, 2017).
Read more >>
Average Weekly Earnings - Average weekly earnings of payroll employees in British Columbia (seasonally adjusted, current dollars) changed little in the month, going up by $0.69 (+0.1%) to reach $951.54 in October.
Read more >>
Wholesale Sales - Sales by wholesalers (seasonally adjusted) in British Columbia climbed in October to reach $6.5 billion, a 1.1% increase compared to the previous month.
Read more >>
Visitor Entries - In October, B.C. welcomed almost 686 thousand non-resident travellers (seasonally adjusted), of which three quarters were from the United States.
Read more >>
Employment Insurance - The number of people receiving employment insurance (EI) benefits in British Columbia decreased by 580 (‑1.2%) in October compared to September, to reach 46,300 individuals.
Read more >>
Small Business Quarterly - There were 187,847 small businesses in British Columbia (excluding self-employed persons) in June of 2017, a 1.0% increase from a year earlier.
Read more >>





Current Surveys
Baccalaureate Graduate Survey
BC Hydro Workforce Profile Survey
BC Public Service Exit Survey
Canada-BC Job Grant Outcomes Survey
FrontCounter BC Customer Satisfaction Survey
Labour Market Agreement for Persons with Disabilities Outcome Survey
Long Term Disability (LTD) Application Process Survey
New Job Survey
SDSI LMAPD Monthly Survey 2016-17
You can read more about any of these by visiting our Current and Recent Surveys page.



Did You Know
It's getting more expensive to purchase property in B.C. The latest valuations for every property in the province, released by BC Assessment, show that the total value of all real estate in B.C. is $1.86 trillion, up 11.9 per cent from 2016.
Source: BC Assessment


Headlines
B.C.'s consumer price index went up in November over the same month a year earlier.

The population of B.C. rose in the third quarter of 2017.

There were more small businesses in B.C. in June than the year before.