Edition: January 20-24, 2020
Resources
News by Sector
Economy
Government Operations
Multiculturalism
Services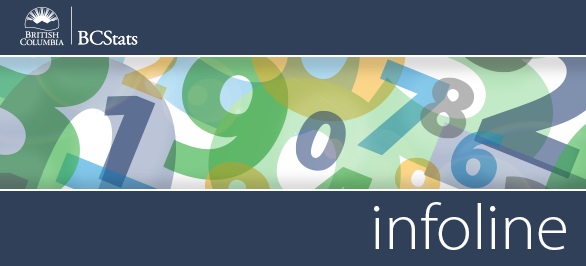 Infoline Highlights for the Week of January 20-24

Visitor Entries - The number of visitor entries to B.C. from the U.S. and overseas was unchanged (+0.0%, seasonally adjusted) in November. While entries to B.C. from the U.S. climbed 0.6%, travel to B.C. from overseas sources slowed considerably (-1.7%).
Read more >>
Employment Insurance - The number of British Columbians receiving regular Employment Insurance (EI) benefits dropped 0.9% (seasonally adjusted) in November, to 40,750. Nationally, EI beneficiaries inched up 0.1%, to 450,970. The number of beneficiaries was up in most provinces across the country.
Read more >>
Wholesale Sales -Wholesale sales in B.C. rose 1.0% (seasonally adjusted) in November, partially reversing a 3.7% decline recorded in October. Nationally, sales were down 1.2%, as weakness in six provinces, including Ontario (-1.6%), outweighed higher sales in other provinces.
Read more >>
Price of New Housing - The cost of new housing in B.C.'s two largest metropolitan areas continued to decline in December. In Victoria, new housing prices were down 0.8% over the same month of 2018, while homebuilders in the Vancouver area received 2.3% less for their projects.
Read more >>
Food Services and Drinking Places - Receipts at food services and drinking places in B.C. were up 0.6% (seasonally adjusted) in November. Canadian establishments saw receipts climb at a similar pace (+0.5%) as revenues were up in eight provinces, including Quebec (+1.0%) and Ontario (+0.7%).
Read more >>
Consumer Price Index -British Columbia's consumer price index (CPI) was 2.1% higher (unadjusted) in December 2019 than in the same month of 2018. On a monthly basis, the CPI dropped 0.1% from November 2019. The overall annual inflation rate dropped to 1.7% when food and energy are excluded from the index.
Read more >>





Current Surveys
Active Transportation Strategy Survey



BC Hydro Workforce Profile Survey
BC Public Service Exit Survey
BC Public Service New Job Survey

BC Student Outcomes Survey of Apprenticeship and Trades Training Students




BC Student Outcomes Survey of Baccalaureate Graduates

BC Student Outcomes Survey of Diploma, Associate Degree and Certificate Students




BC Wildfire Service Auxiliary Work Environment

Capilano University Employee Engagement

City of Victoria Business Survey

Fraser Basin Council Non-Residential Flood Vulnerability




Long Term Disability (LTD) Application Process Survey

OCIO ES Client Satisfaction Survey

Office of the Auditor General Work Environment Survey




Workforce Development Agreement Outcomes

Workforce Development Agreement Employer Outcomes



You can read more about any of these by visiting our Current Surveys page.



Did You Know
Many Canadians (73%) believe that responsible investing is the way of the future, although 48% stated that they aren't sure where to find reliable information about it. Residents from B.C. (46%) and Quebec (38%) are more likely to have a conversation with their financial advisor about responsible investing than Ontario (27%) or Atlantic (19%) residents.

Source: Ipsos


Headlines
Wholesale sales rose in November from the month before.

The price of new housing in Vancouver and Victoria decreased in November from October.

B.C.'s CPI was higher in November than November 2018.