Edition: January 21, 2019
Resources
News by Sector
Economy
Government Operations
Multiculturalism
Services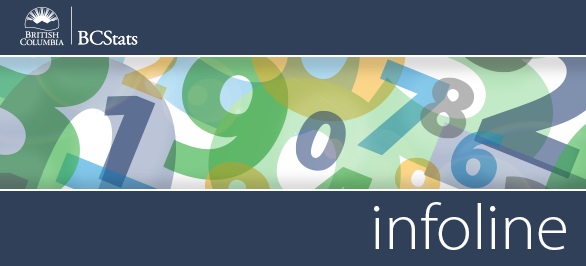 Infoline Highlights: Coverage for the week of January 14-18

Consumer Price Index - British Columbia's consumer price index (CPI) was 3.0% higher (unadjusted) in December 2018 than in the same month of 2017. On a monthly basis, the rate of inflation inched up 0.1% from November 2018.
Read more >>

Bankruptcies - There were 325 bankruptcies filed by consumers in British Columbia in November, a 7.7% decrease from the same month of 2017. Meanwhile, the number of business bankruptcies was notably lower, falling 44.4% to five.
Read more >>
Canadian International Trade Data - A partial shutdown of the US federal government came into effect on December 22, 2018. This resulted in the closure of some government agencies, including the United States Census Bureau.
Read more >>



B.C.'s rate of inflation stayed relatively flat (0.1% increase) in December from the month before, although it climbed 3.0% between December 2017 and December 2018, the highest among the provinces.

Follow @BCStats on Twitter


Current Surveys
BC Student Outcomes Survey of Baccalaureate Graduates

BC Hydro Workforce Profile Survey
BC Public Service Exit Survey
BC Public Service New Job Survey
BC Student Outcomes Survey of Apprenticeship and Trades Training Students


BC Student Outcomes Survey of Diploma, Associate Degree and Certificate Students



Canada-BC Job Grant Outcomes Survey
FrontCounter BC Customer Satisfaction Survey

Long Term Disability (LTD) Application Process Survey

New Entrants to Agriculture

Service BC Citizen Satisfaction

You can read more about any of these by visiting our Current and Recent Surveys page.



Did You Know
January 20-26 is Non-Smoking Week in Canada. In 2017, the number of Canadians 25 and older who smoke cigarettes rose to 16% of the national population, an increase from 13% in 2015, and a sharp turn in direction for national smoking rates, which have been consistently falling since 2000.
Source:

Statistics Canada


Headlines
B.C.'s consumer price index inched up in December from the month before.

Both consumer and business bankruptcies in B.C. were down in November over November 2017.

The U.S. government shutdown affects access to Canadian international trade data.