Edition: January 22, 2018
Resources
News by Sector
Economy
Government Operations
Multiculturalism
Services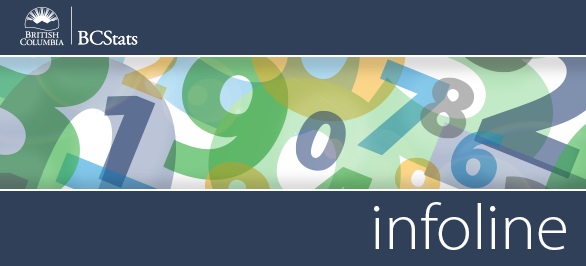 Infoline Highlights: Coverage for the week of January 15-19

Sub-provincial Population Estimates - The Bulkley-Nechako (+11.7%) and Okanagan-Similkameen (+8.3%) regional districts experienced the highest relative growth between 2016 and 2017.
Read more >>
Non-residential Building Investment - Investment in non-residential building construction in B.C. increased by 2.3% (seasonally adjusted) in the fourth quarter of 2017.
Read more >>
Employment Insurance - The number of people receiving employment insurance benefits in British Columbia increased by 440 (+0.9%) in November compared to October, to reach 47,020 individuals.
Read more >>
Manufacturing Sales - B.C. manufacturing sales (seasonally adjusted) went up 0.7% in November, led by the computer and electronic product (+11.5%), paper (+9.4%) and transportation equipment (+5.5%) industries.
Read more >>
Visitor Entries - In November, B.C. welcomed more than 683 thousand non-resident travellers (seasonally adjusted), of which three-quarters were from the United States.
Read more >>
Family Violence in Canada - B.C. had the third lowest rate of police-reported family violence among provinces (199 per 100,000 persons) in 2016, well below the Canadian average of 239 per 100,000 persons.
Read more >>




@BCStats on Twitter
35% of survey respondents from B.C. diploma programs said their country of origin was not Canada. BC Student Outcomes explores cultural diversity in B.C.'s post-secondary education system.

Follow @BCStats on Twitter


Current Surveys
Baccalaureate Graduate Survey
BC Hydro Workforce Profile Survey
BC Public Service Exit Survey
BC Student Outcomes Survey of Apprenticeship and Trades Training Students
BC Student Outcomes Survey of Diploma, Associate Degree and Certificate Students
Canada-BC Job Grant Outcomes Survey
FrontCounter BC Customer Satisfaction Survey
Labour Market Agreement for Persons with Disabilities Outcome Survey
Long Term Disability (LTD) Application Process Survey
New Job Survey
SDSI LMAPD Monthly Survey 2016-17
You can read more about any of these by visiting our Current and Recent Surveys page.



Did You Know
British Columbia's farm equity increased by 5.3% in 2016 compared to 2015. The total asset value of British Columbian farms increased 4.8% from the year before, while liabilities increased more modestly by 1.6%.
Source: Statistics Canada


Headlines
The Metro Vancouver Regional District saw the largest increase in population since July 1, 2016.

Investment in non-residential construction in B.C. increased in the fourth quarter of 2017.

The number of people receving employment insurance benefits in B.C. went up in November.