Edition: January 23, 2017
Resources
News by Sector
Economy
Government Operations
Multiculturalism
Services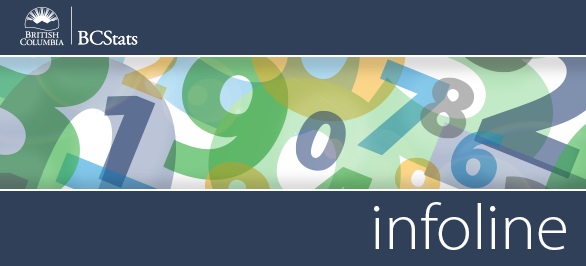 Infoline Highlights: Coverage for the week of January 16-20

Consumer Price Index (CPI) - British Columbia's consumer price index (CPI) climbed 1.9% (unadjusted) in December, compared to the same month of the previous year. This marks an increase in the year-over-year rate of inflation since November, when it was 1.6%.
Read more >>
Retail Sales -Sales by retailers in the province slipped 0.7% (seasonally adjusted) in November, as a seven-month-long upturn came to an end. Canadian sales inched up 0.2%, marking the fourth consecutive month of increases.
Read more >>
Visitor Entries - International visitor entries to Canada through British Columbia increased (+1.9%, seasonally adjusted) in November, as the number of visitors from the U.S. continued to climb (+1.8%). Meanwhile, the number of guests from overseas declined (-1.0%), with fewer European (-7.6%) and Asian (-1.3%) visitors coming to B.C., offsetting boosts in visitor entries from other parts of the world, including Africa (+1.7%), North and Central America and the Caribbean (+6.2%) and South America (+11.8%).
Read more >>
Manufacturing Sales
- Manufacturing sales in B.C. climbed 2.4% (seasonally adjusted) in November. Sales of manufactured food products were higher for a seventh straight month (+1.3%), helping to drive total receipts for non-durables 1.0% higher.
Read more >>
Profile of the British Columbia Technology Sector: 2016 Edition -High technology has evolved into a key sector in the B.C. economy. High technology firms tend to be innovative and efficient, creating goods and services that confer benefits on other parts of the economy by improving productivity and profitability, while at the same time providing relatively high-wage employment.
Read more >>
Employment Insurance - The number of British Columbians receiving regular employment insurance (EI) benefits edged up 0.2% (seasonally adjusted) in November, to 56,330. Among other provinces, Alberta (+3.4%) saw the biggest increase in the number of beneficiaries, while Quebec (-1.8%) recorded the most notable decline.
Read more >>
Non-Residential Building Investment - Investment in non-residential building construction in B.C. decreased a moderate 3.5% (seasonally adjusted) in the fourth quarter of 2016. Spending on new buildings declined in the industrial (-6.0%), commercial (-4.3%) and institutional (-0.3%) sectors.
Read more >>




Current Surveys
Apprenticeship Student Outcomes (APPSO) Survey
Baccalaureate Graduate Survey
BC Hydro Workforce Profile Survey
BC Public Service Exit Survey
Canada-BC Job Grant Outcomes Survey
Community Living BC Employee Engagement Survey 2017

Diploma, Associate Degree, and Certificate Student Outcomes (DACSO) Survey
FrontCounter BC Customer Satisfaction Survey
Labour Market Agreement for Persons with Disabilities Outcome Survey
Long Term Disability (LTD) Application Process Survey
Ministry of Finance Revenue Services Client Satisfaction Survey 2016/2017
Procurement Transformation Survey (#BCTECH Strategy)
SDSI LMAPD Monthly Survey 2016-17
Service BC Citizen Satisfaction Survey 2016/2017
You can read more about any of these by visiting our Current and Recent Surveys page.



Did You Know
85% of British Columbians stated they believe that Barack Obama was a good president. This sentiment was shared by 81% of Canadians. Obama's approval ratings worldwide were similar, with the exception of Russia, where 87% believe he has not been a good president.
Source: Ipsos Canada


Headlines
The Consumer Price Index (CPI) rose in December, from December 2015.

B.C.'s tech industry employs 4.9% of the province's workforce.

Number of people in B.C. receiving EI benefits remains unchanged in November.