Edition: January 27-31, 2020
Resources
News by Sector
Economy
Government Operations
Multiculturalism
Services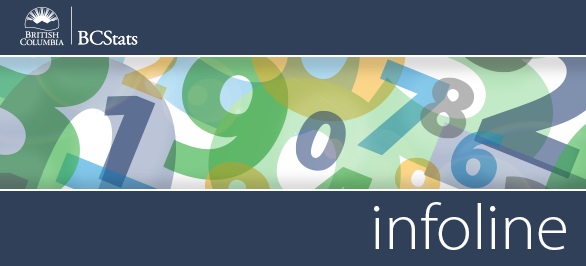 Infoline Highlights for the Week of January 27-31

Industrial Product Price Index - Canadian manufacturers' selling prices were 0.3% higher in December than in the same month of 2018. The increase was mostly attributable to climbing prices for energy and petroleum products (+5.6%).
Read more >>
Gross Domestic Product - Canada's economy expanded slightly in November, with real GDP climbing 0.1% (seasonally adjusted) from the previous month. The goods sector saw growth in November (+0.1%), following two consecutive months of declines.
Read more >>
Average Weekly Earnings - Average weekly earnings of payroll employees in British Columbia were $1,011.02 in November (seasonally adjusted, current dollars), $4.55 lower than in the previous month (-0.4%). Nationally, employee wages averaged $1,041.79, a slight decline of 0.3% (-$3.11) from October.
Read more >>
Cancer Incidence - There were a total of 24,610 new cases of cancer diagnosed in British Columbia in 2017, a 1.8% decline compared to the previous year, making for a rate of 500 per 100,000 population. The rate for new cancer cases among men in the province decreased 3.5%, to 526, whereas the rate among women dropped 2.7%, to 474 per 100,000 population.
Read more >>
Building Investment - Total investment in building construction in B.C. during November was up slightly (0.2%) from October, at just under $2.8 billion (seasonally adjusted, current dollars). The increase was due to a 2.1% rise in multiple dwelling buildings, as all other categories fell during the month. Commercial investment fell 2.0% to $533.0 million, the first decline since May 2018.
Read more >>
Retail Sales -Retail sales in British Columbia climbed 1.1% (seasonally adjusted) in November, following a lacklustre October (-0.6%). Nationally, retail sales were up 0.9%, nearly reversing a 1.1% decline recorded in October.
Read more >>





Current Surveys
BC Hydro Workforce Profile Survey
BC Public Service Work Environment Survey

BC Student Outcomes Survey of Apprenticeship and Trades Training Students




BC Student Outcomes Survey of Baccalaureate Graduates

BC Student Outcomes Survey of Diploma, Associate Degree and Certificate Students



City of Victoria Business Survey

Fraser Basin Council Non-Residential Flood Vulnerability




K-12 School Food Survey

Office of the Auditor General Work Environment Survey




Workforce Development Agreement Outcomes

Workforce Development Agreement Employer Outcomes



You can read more about any of these by visiting our Current Surveys page.



Did You Know
B.C. keeps growing - the province added about 70,000 more people between July 1, 2018 and June 30, 2019, an increase of 1.2%. The Fraser Valley (+2.1%) and Central Okanagen (+1.9%) were the regional districts that saw the most growth over this period.

Source: Sub-provincial Population Highlights


Headlines
B.C. employee's average weekly earnings dipped slightly in November from the month before.

There were fewer new cases of cancer in 2017 than in 2016.

Retail sales in B.C. rose in November after stalling the month before.