Edition: January 28, 2019
Resources
News by Sector
Economy
Government Operations
Multiculturalism
Services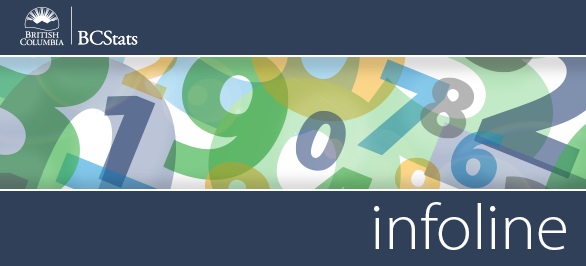 Infoline Highlights: Coverage for the week of January 21-25

Employment Insurance - The number of British Columbians receiving regular Employment Insurance (EI) benefits inched down 0.2% (seasonally adjusted) in November, to 36,950. While there were more male beneficiaries than in the previous month (+1.2%), the number of women receiving EI benefits declined notably (-2.2%).
Read more >>

Visitor Entries - Visitor entries to B.C. from the U.S. and overseas slowed slightly (-0.7%, seasonally adjusted) in November. While travel to B.C. from the U.S. inched 0.4% higher, entries from overseas sources declined 3.4%.
Read more >>
Retail Sales - Retail sales in British Columbia bucked the national trend in November, edging 0.3% (seasonally adjusted) higher. Nationally, retail sales showed less promise, easing 0.9% in November.
Read more >>
Food Services and Drinking Places - Receipts at food services and drinking places in B.C. showed continued strength in November (+1.0%, seasonally adjusted), climbing for the seventh consecutive month. Canadian sales were also higher (+0.7%) in November, with all but three provinces posting increases.
Read more >>

Wholesale Sales - Wholesale sales in the province dipped 3.5% (seasonally adjusted) in November. Nationally, wholesalers saw a 1.0% decrease in sales with losses in five provinces, including B.C., Ontario (-1.4%), Quebec (-0.5%), counterbalancing sales boosts in the Prairie Provinces and parts of Atlantic Canada.
Read more >>
Manufacturing Sales - Manufacturing sales in British Columbia were slightly higher (+0.3%, seasonally adjusted) in November, following a 1.5% decrease in the previous month. Non-durables were down 0.8%, partly the result of slowed sales from producers of paper (-3.4%) and petroleum and coal (-7.3%) products.
Read more >>


B.C.'s food services and drinking places continued their seven month run of growth, with sales increasing +1.0% in November.

Follow @BCStats on Twitter


Current Surveys
BC Student Outcomes Survey of Baccalaureate Graduates

BC Hydro Workforce Profile Survey
BC Public Service Exit Survey
BC Public Service New Job Survey
BC Student Outcomes Survey of Apprenticeship and Trades Training Students


BC Student Outcomes Survey of Diploma, Associate Degree and Certificate Students



Canada-BC Job Grant Outcomes Survey
Diversity and Inclusion Survey

FrontCounter BC Customer Satisfaction Survey

Long Term Disability (LTD) Application Process Survey

New Entrants to Agriculture

Service BC Citizen Satisfaction

You can read more about any of these by visiting our Current and Recent Surveys page.



Did You Know
B.C. is one of the healthiest provinces in Canada - British Columbians enjoy a life expectancy rate higher than any other province - but the percentage of the population 12 years and older who reported positive mental health is decreasing, from 68.7% in 2011-2012 to 68.4% in 2013-2014.
Source:

Taking the Pulse of the Population


Headlines
Fewer British Columbians received Employment Insurance (EI) benefits in November than the month before.

B.C.'s retail sales rose slightly in November over October.

In November, wholesale sales in B.C. decreased from the previous month.