Edition: January 29, 2018
Resources
News by Sector
Economy
Government Operations
Multiculturalism
Services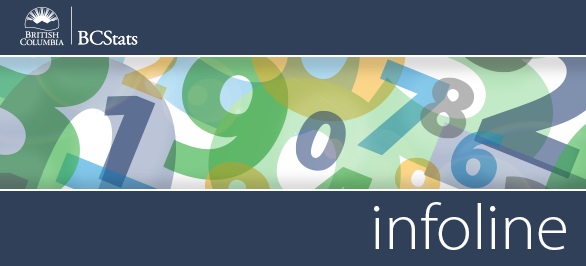 Infoline Highlights: Coverage for the week of January 22-26

Input Indicators of the B.C. Technology Sector, 2017 - B.C.'s high technology sector is a vital part of the province's economy and, as such, the B.C. government is committed to fostering an environment that will fuel investments in innovation and technology development.
Read more >>
Consumer Price Index - British Columbia's consumer price index (CPI) rose 2.0% (unadjusted) in December compared to the same month of the previous year.
Read more >>
Retail Sales - Retail sales in British Columbia remained virtually unchanged compared to October.
Read more >>
Wholesale Sales - Sales by wholesalers (seasonally adjusted) in British Columbia fell in November to reach $6.4 billion, a 0.7% decrease compared to the previous month.
Read more >>
Average Weekly Earnings - Average weekly earnings of payroll employees in British Columbia (seasonally adjusted, current dollars) fell in the month, going down by $2.49 (‑0.3%) to reach $947.89 in November.
Read more >>
Food Services & Drinking Places - Revenues generated in British Columbia's food service and drinking places industry fell by 1.4% (seasonally adjusted) in November, the largest decrease among provinces.
Read more >>



@BCStats on Twitter
The 2017 edition of the Input Indicators of the British Columbia High Technology Sector is now available.

Follow @BCStats on Twitter


Current Surveys
Baccalaureate Graduate Survey
BC Hydro Workforce Profile Survey
BC Public Service Exit Survey
BC Student Outcomes Survey of Apprenticeship and Trades Training Students
BC Student Outcomes Survey of Diploma, Associate Degree and Certificate Students
Canada-BC Job Grant Outcomes Survey
FrontCounter BC Customer Satisfaction Survey
Labour Market Agreement for Persons with Disabilities Outcome Survey
Long Term Disability (LTD) Application Process Survey
New Job Survey
SDSI LMAPD Monthly Survey 2016-17
You can read more about any of these by visiting our Current and Recent Surveys page.



Did You Know
B.C. is the second least expensive place in Canada to purchase cannabis for medicinal or non-medicinal purposes behind only Manitoba.
Source: Statistics Canada


Headlines
Prices for B.C. consumers went up in December 2017 compared to the same month of 2016.

B.C.'s retail sales remained unchanged in November, while wholesale sales fell in the month.

Average weekly earnings of payroll employees in British Columbia fell in November.