Edition: January 3, 2017
Resources
News by Sector
Economy
Government Operations
Multiculturalism
Services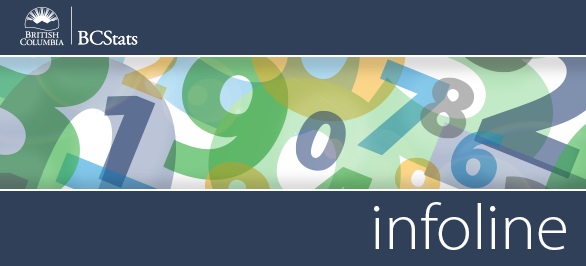 Infoline Highlights: Coverage for the week of December 19 - 30

Consumer Price Index - British Columbia's consumer price index (CPI) climbed 1.6% (unadjusted) in November, compared to the same month of the previous year. This marks a decrease in the year-over-year rate of inflation since October, when it was 2.1%.
Read more >>
Wholesale Sales - Wholesale sales in B.C. rebounded in October, climbing 3.4% (seasonally adjusted), following a 1.6% decline in September. Wholesalers in this province fared well compared to those in most other parts of the country.
Read more >>
Employment Insurance - The number of British Columbians receiving regular employment insurance (EI) benefits climbed (+2.1%, seasonally adjusted) to 56,100 in October. With the exception of Quebec (-1.8%) and Ontario (-0.9%), all provinces saw a rise in EI beneficiaries, resulting in a 0.5% increase at the national level.
Read more >>



Current Surveys
Apprenticeship Student Outcomes (APPSO) Survey
Baccalaureate Graduate Survey
BC Hydro Workforce Profile Survey
BC Public Service Exit Survey
Canada-BC Job Grant Outcomes Survey

Diploma, Associate Degree, and Certificate Student Outcomes (DACSO) Survey
FrontCounter BC Customer Satisfaction Survey
Labour Market Agreement for Persons with Disabilities Outcome Survey
Long Term Disability (LTD) Application Process Survey
Procurement Transformation Survey (#BCTECH Strategy)
SDSI LMAPD Monthly Survey 2016-17
You can read more about any of these by visiting our Current and Recent Surveys page.



Did You Know
Apart from Quebec, people in British Columbia were the least likely of all the provinces to participate in traditional Christmas activities, such as exchanging gifts (72%), putting up a Christmas tree (65%), eating turkey dinner (63%), and hanging stockings (51%).
Source: Ipsos Canada


Headlines
The Consumer Price Index CPI) rose 1.6% in November.

Wholesale sales in B.C. rallied in October.

In October, the number of British Columbians collecting employment benefits grew.