Edition: January 30, 2017
Resources
News by Sector
Economy
Government Operations
Multiculturalism
Services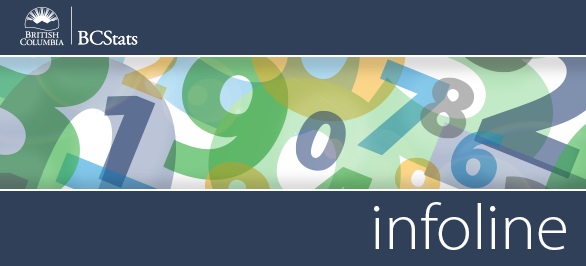 Infoline Highlights: Coverage for the week of January 23-27

Household Spending - Spending by households in British Columbia averaged $ 64,797 in 2015, slightly more than the national average of $60,516. Alberta ($76,535) and Saskatchewan ($65,959) were the only provinces where household expenditures were higher than those in B.C.
Read more >>
Payroll Employment, Earnings and Hours -Average weekly earnings of payroll employees in British Columbia were $924.46 in November (seasonally adjusted, current dollars), $8.13 higher than in the previous month (+0.9%). Nationally, employee wages averaged $960.60, a rise of 0.8% over the previous month.
Read more >>
2016 Sub-Provincial Population Projections - At the provincial level, the B.C. population was an estimated 4,751,612 as of July 1, 2016. The B.C. population grew by 1.2% between July 1st 2015 and June 30th 2016 – an increase of almost 59,000 persons.
Read more >>
Wholesale Sales
- Wholesale sales in the province rose 1.2% (seasonally adjusted) in November. Strong sales in three subsectors, led by building material and supplies, explained much of the increase.
Read more >>


@BCStats on Twitter
Average weekly earnings in British Columbia increased 0.9% to $925 in November (seasonally adjusted).
Follow @BCStats on Twitter


Current Surveys
Apprenticeship Student Outcomes (APPSO) Survey
Baccalaureate Graduate Survey
BC Hydro Workforce Profile Survey
BC Public Service Exit Survey
Canada-BC Job Grant Outcomes Survey
Diploma, Associate Degree, and Certificate Student Outcomes (DACSO) Survey
FrontCounter BC Customer Satisfaction Survey
Labour Market Agreement for Persons with Disabilities Outcome Survey
Long Term Disability (LTD) Application Process Survey
Ministry of Finance Revenue Services Client Satisfaction Survey 2016/2017
SDSI LMAPD Monthly Survey 2016-17
Service BC Citizen Satisfaction Survey 2016/2017
You can read more about any of these by visiting our Current and Recent Surveys page.



Did You Know
36% of Canadians are using medical technology to help manage their health, with Millennials (47%) being more likely to incorporate high-tech medical management tools into their lives and Boomers (26%) less likely to use technology to manage their health.
Source: Ipsos Canada


Headlines
Household spending in B.C. in 2015 was the third highest in Canada.

The average weekly earnings of payroll employees in B.C. in November were higher than October.

The population of B.C. grew amost 59,000 between July 2015 and July 2016.