Edition: January 9, 2017
Resources
News by Sector
Economy
Government Operations
Multiculturalism
Services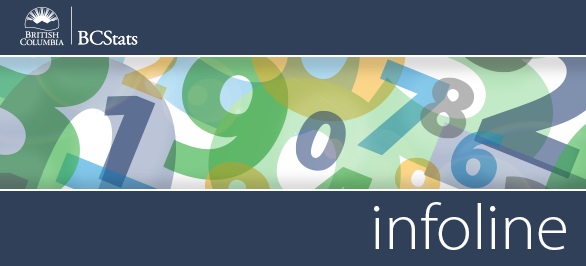 Infoline Highlights: Coverage for the week of January 3 - 6

Labour Force Survey Highlights - The unemployment rate in British Columbia was 5.8% in December, down from 6.1% in November. The gain in employment relative to the previous month (+17,000) was much greater than the increase in size of the labour force (+9,100).
Read more >>
Exports Highlights - The value of B.C. origin commodity exports jumped 7.7% in the first eleven months of 2016, compared to the same period a year earlier. There was a substantial 11.6% rise in shipments to the United States and there were also increases in exports to several other major destinations, including Mainland China (+1.7%), Japan (+2.4%), South Korea (+8.9%), the European Union (+10.9%), India (+12.4%) and Taiwan (+2.0%).
Read more >>
B.C. Small Business Quarterly - In the third quarter of 2016, the number of self-employed in B.C. rose to its highest level since the second quarter of 2013. Self-employment levels were up 3.4% compared to the second quarter.
Read more >>
Industrial Product Price Index - Canadian manufacturers received an average of 1.4% more for their products in November 2016 than in the same month of 2015. Primary non-ferrous metal products (+12.0%) and, to a lesser extent, fruit, vegetables, feed and other food products (+2.0%) had the strongest influence on the 12-month change, but 16 other major commodity groups also saw prices rise.
Read more >>
Food Services and Drinking Places - Sales in the province's food services and drinking places industry slipped 1.6% (seasonally adjusted) in October 2016, following a 2.7% gain in the previous month. While sales slowed in October, they were still substantially higher (+10.5%) than the level recorded in October 2015.
Read more >>
Retail Sales - Sales by retailers in the province sped up in October 2016, climbing 1.8% (seasonally adjusted), the most significant boost nationwide. Canadian sales were also up (+1.1%), with most regions posting increases.
Read more >>


@BCStats on Twitter
Canadian manufacturers receive 1.4% more for their products in November than in the same month of 2015.
Follow @BCStats on Twitter


Current Surveys
Apprenticeship Student Outcomes (APPSO) Survey
Baccalaureate Graduate Survey
BC Hydro Workforce Profile Survey
BC Public Service Exit Survey
Canada-BC Job Grant Outcomes Survey
Community Living BC Employee Engagement Survey 2017

Diploma, Associate Degree, and Certificate Student Outcomes (DACSO) Survey
FrontCounter BC Customer Satisfaction Survey
Labour Market Agreement for Persons with Disabilities Outcome Survey
Long Term Disability (LTD) Application Process Survey
Procurement Transformation Survey (#BCTECH Strategy)
SDSI LMAPD Monthly Survey 2016-17
You can read more about any of these by visiting our Current and Recent Surveys page.



Did You Know
When presented with seven potential New Year's resolutions, 33% of respondents chose improving personal fitness and nutrition as their first choice. Women (38%) were more likely to choose this resolution over men (28%), as were respondents aged 55 years and over (33%).
Source: Ipsos Canada


Headlines
B.C.'s unemployment rate dropped to 5.8% in December.

B.C.'s commodity exports rose in value over the first 11 months of 2016.

The number of self-employed people in B.C. went up in the third quarter of 2016.