Edition: July 11, 2016
Resources
News by Sector
Economy
Government Operations
Multiculturalism
Services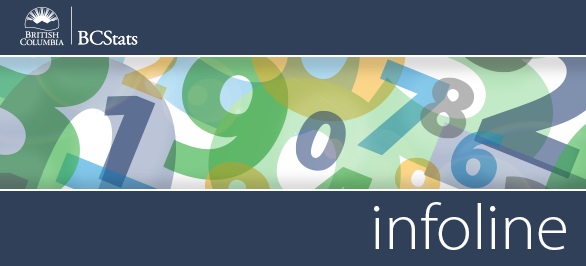 Infoline Highlights: Coverage for the week of July 4- 8

Labour Force Statistics Highlights - The unemployment rate in British Columbia was 5.9% in June, down from 6.1% in May, as employment increased by 16,000, outpacing growth in the labour force of 11,800 persons.
Read more >>
Building Permits - Municipalities in British Columbia issued building permits worth $1.2 billion (seasonally adjusted) in May, a 2.2% boost from the previous month.
Read more >>

Food Services and Drinking Places, Annual, 2014 - Food services and drinking places in the province recorded a solid 7.5% increase (to $9.8 billion) in operating revenues in 2014. Canadian revenues were up 5.3% during the year.
Read more >>
Sawmills - Production of softwood lumber at B.C. sawmills was 2.1% higher in April than in the same month of 2015.
Read more >>

Exports - The value of B.C.'s commodity exports edged up 0.6% year-to-date to May, compared to the same five-month period in 2015.
Read more >>

Television Broadcasting - Operating revenues from television broadcasting in Canada slipped 2.1% in 2015 to $7.4 billion..
Read more >>



@BCStats on Twitter
April's new housing prices rose in both Victoria (+1.3%) and Vancouver (+3.9%), over prices in April 2015.
Follow @BCStats on Twitter


Current Surveys
Apprenticeship Student Outcomes (APPSO) Survey
Baccalaureate Graduate Survey
BC Hydro Workforce Profile Survey
BC Labour Market Agreement Outcomes Survey
BC Public Service Exit Survey
Canada-BC Job Grant Outcomes Survey

Diploma, Associate Degree, and Certificate Student Outcomes (DACSO) Survey
FrontCounter BC Customer Satisfaction Survey
Long Term Disability (LTD) Application Process Survey

SDSI LMAPD Monthly Survey 2016-17
Service BC Centres In-Person Survey

You can read more about any of these by visiting our Current and Recent Surveys page.



Did You Know
Life expectancy at birth has improved substantially for Canadians since the early 20th century. For men, life expectancy has increased by 20.5 years, from 58.8 years in 1920–1922 to 79.3 years in 2009–2011. During the same period, the life expectancy of women increased by 23.0 years, from 60.6 years to 83.6 years.>
Source: Statistics Canada


Headlines
The employment rate increased .3%percentage points to 60.6%

Energy product exports fell 20.4% year-to-date to May.

Private conventional television broadcasters saw notable growth in revenues (+3.9% to $1.9 billion) in 2015.