Edition: July 13-17, 2020
Resources
News by Sector
Economy
Government Operations
Multiculturalism
Services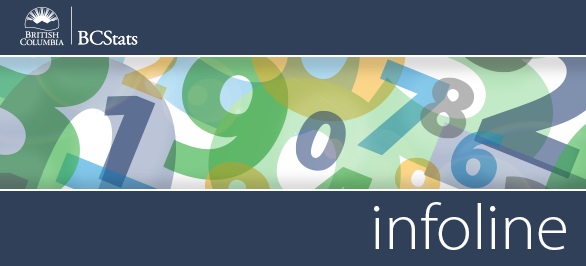 Infoline Highlights for the Week of July 13-17

Wholesale Sales - After experiencing record declines in April (-14.9%) in the wake of the COVID-19 pandemic, B.C. wholesale sales climbed 3.5% (seasonally adjusted) to $5.5 billion in May. Strong sales in four of the seven subsectors, led by merchant wholesalers of personal and household goods (+16.0%) and building material and supplies (+13.8%), explained much of the increase.
Read more >>
MLS Sales - As COVID-19 directives for social distancing continue to relax, real estate activity in British Columbia has seen some recovery from the low levels registered in April and May. There were 8,166 residential units sold in British Columbia in June, an increase of 16.9% compared to June 2019.
Read more >>
Manufacturing Sales - B.C. manufacturing sales (seasonally adjusted) climbed by 7.2% in May compared to April. Growth in sales was widespread across most industries, with the largest increases (in both dollar and percentage terms) in fabricated metal products (+21.7%), machinery (+21.9%) and miscellaneous (+53.1%) manufacturing (miscellaneous manufacturing includes products such as medical equipment and supplies, office supplies and toys).
Read more >>
Canadian Survey of Business Conditions - Statistics Canada released the results of the second Canadian Survey on Business Conditions in order to better understand the impacts of COVID-19 on businesses. The survey was launched as an online questionnaire, opened to any respondent. However, unlike the first iteration, probability-sample design was applied, and results can be considered representative of employer businesses in Canada.
Read more >>
Industrial Product Price Index, Flash Estimate - Statistics Canada released preliminary estimates for industrial product prices. Note that these estimates are likely to be revised with the official release on July 31, are preliminary and should be interpreted with caution. Canadian manufacturers' selling prices fell 3.1% in June, compared to the same month a year earlier.
Read more >>





Current Surveys
BC Hydro Workforce Profile Survey
BC Public Service Exit Survey
BC Public Service New Job Survey

BC Student Outcomes Survey of Diploma, Associate Degree and Certificate Students

Coast Mountain School Board School District 82 Work Environment Survey




Remote Work Sustainability and Work Site Reintegration




Workforce Development Agreement Outcomes

Workforce Development Agreement Employer Outcomes



You can read more about any of these by visiting our Current Surveys page.



Did You Know
Most (79%) Canadians agree (42% strongly/37% somewhat) with local municipalities making facemasks mandatory when in public, with residents of Saskatchewan and Manitoba (84%), BC (83%), Ontario (83%) and Quebec (80%) significantly more likely than those in Alberta (66%) and Atlantic Canada (64%) to support this measure.
Source: Ipsos Canada


Headlines
The number of residential units sold in B.C. in June was higher than in June 2019.

Manufacturing sales in B.C. rose between April and May.

The IPPI preliminary estimate for June is that manufacturing sellers' prices decreased in June compared to June 2019.





COVID-19
BC Stats is working to produce data and information that helps government, business and public decision-makers understand the social and economic impacts of COVID-19.