Edition: July 15-19, 2019
Resources
News by Sector
Economy
Government Operations
Multiculturalism
Services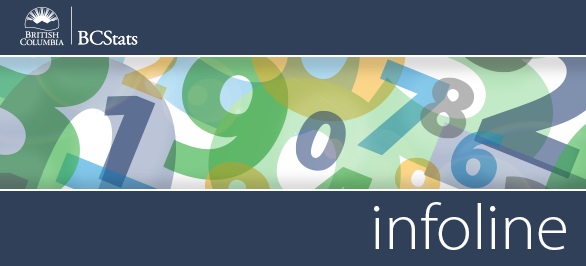 Infoline Highlights for the Week of July 15-19

Retail Sales - Sales by retailers in the province slipped 0.2% (seasonally adjusted) in May, duplicating the 0.2% decrease recorded in the previous month. Retailers in many parts of the country did not fare particularly well in May.
Read more >>
Employment Insurance -The number of British Columbians receiving regular Employment Insurance (EI) benefits inched down 0.7% (seasonally adjusted) to 40,240 in May. Nationally, EI beneficiaries were slightly higher (+0.5%, to 568,790) than in April.
Read more >>
Consumer Price Index - British Columbia's consumer price index (CPI) was 2.6% higher (unadjusted) in June 2019 than in the same month of 2018. On a monthly basis, the rate of inflation rose 0.1% from May 2019. The overall annual inflation rate remained at 2.6% when food and energy are excluded from the index.
Read more >>
Manufacturing Sales - Manufacturing sales in B.C. dipped 1.8% (seasonally adjusted) in May. Sales of manufactured food products continued to seesaw, dropping 2.4% (following a 2.5% increase in April) and helping to drive total receipts for non-durables down (-2.4%).
Read more >>




Current Surveys
BC Hydro Workforce Profile Survey

BC Prosecution Service Gender Equity and Advancement



BC Public Service Exit Survey
BC Public Service New Job Survey

BC Student Outcomes Survey of Diploma, Associate Degree and Certificate Students

Canada-BC Job Grant Outcomes Survey
FrontCounter BC Customer Satisfaction Survey
Labour Market Agreement for Persons with Disabilities Outcomes Survey


Long Term Disability (LTD) Application Process Survey

WES Pulse Check

Workforce Development Agreement Outcomes

Workforce Development Agreement Employer Outcomes



You can read more about any of these by visiting our Current and Recent Surveys page.



Did You Know
In 2018, the Crime Severity Index in B.C. was relatively stable (+0.5%) compared to the year before and the number of homicides dropped by 30, although that number had increased significantly in 2017.
Source: Statistics Canada


Headlines
Retail sales in B.C. dipped slightly in May.

In May, fewer people in B.C. collected employment benefits.

B.C.'s consumer price index was higher in June than June 2018.