Edition: July 16, 2018
Resources
News by Sector
Economy
Government Operations
Multiculturalism
Services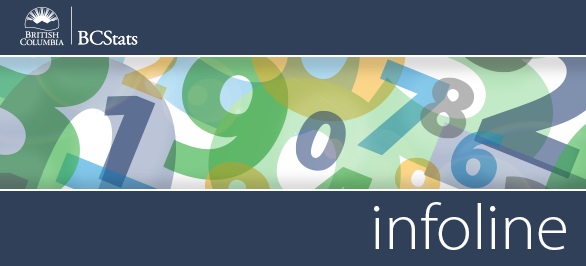 Infoline Highlights: Coverage for the week of July 9-13

Crime - To date (as of June 30, 2018), the National DNA Data Bank has assisted in 51,254 criminal investigations. Cases involving breaking and entering (24,323), sexual assault (5,688), and armed robbery (5,667) accounted for the largest number of investigations assisted with information contained in the Data Bank.
Read more >>
Housing Starts - Housing starts in urban areas (areas with population of at least 10,000) in British Columbia fell by 15.5% (seasonally adjusted at annual rates) in June compared to May, making B.C. one of the three provinces that registered decreases in the month.
Read more >>
Price of New Housing - Relative to the same month of 2017, the cost of new housing in B.C. continued to climb in May, rising by 4.4%, the largest increase among provinces. Vancouver (+4.8%) reported the second largest price increase among all surveyed census metropolitan areas.
Read more >>


@BCStats on Twitter
Although the cost of new housing in B.C. remained unchanged between April and May, it continued to climb in May compared to the same month in 2017.

Follow @BCStats on Twitter


Current Surveys
BC Apprenticeship Discontinuers Survey
BC Assessment Employee Engagement Pulse Survey

B.C. Cannabis Use Survey

BC Hydro Workforce Profile Survey
BC Public Service Exit Survey
BC Student Outcomes Survey of Apprenticeship and Trades Training Students
BC Student Outcomes Survey of Diploma, Associate Degree and Certificate Students
Canada-BC Job Grant Outcomes Survey
FrontCounter BC Customer Satisfaction Survey
New Job Survey
Online Games Survey

School District #62 (Sooke) Work Environment Survey
Social Development and Poverty Reduction (SDPR) LMAPD Monthly Survey
Survey on Skills, Competencies and Characteristics for Future Workforce
You can read more about any of these by visiting our Current and Recent Surveys page.



Did You Know
In 2016, 20.3% of British Columbia's children lived in low income, slightly above the national average of 19.6% and down from 22.0% in 2015. Children living in lone-parent families were more likely to live in low income (51.2%) compared to children in couple families (12.5%).
Source: Statistics Canada



Headlines
To date (as of June 30, 2018), the National DNA Data Bank has assisted in 51,254 criminal investigations.

Housing starts in urban areas in British Columbia fell in June compared to May.

Relative to the same month of 2017, the cost of new housing in B.C. continued to climb in May.