Edition: July 18, 2016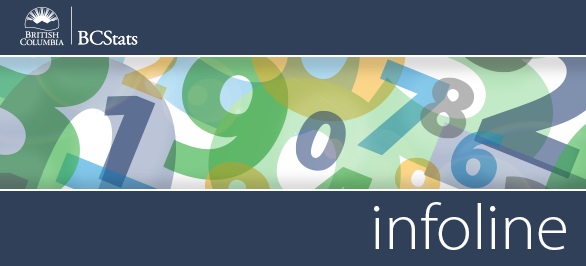 Infoline Highlights: Coverage for the week of July 11-15

Non-Residential Building Investment - Investment in non-residential building construction in the province rose 2.2% (seasonally adjusted) in the second quarter of 2016.
Read more >>
Manufacturing Sales - Sales of goods produced by British Columbia's manufacturing sector rebounded in April, rising 1.1% (seasonally adjusted), on the heels of a 1.3% drop in March.
Read more >>

Income - The median after-tax income for all types of households (including both economic families of two or more persons and unattached individuals) in British Columbia was $54,600 (2014 constant dollars, includes government transfers) in 2014.
Read more >>
The Price of New Housing - The cost of new housing in B.C.'s two biggest metropolitan areas continued to climb in May.
Read more >>

Housing Starts - Urban (areas with at least 10,000 population) housing starts in the province showed strength in June, surging 38.2% (seasonally adjusted).
Read more >>




Current Surveys
Apprenticeship Student Outcomes (APPSO) Survey
Baccalaureate Graduate Survey
BC Hydro Workforce Profile Survey
BC Labour Market Agreement Outcomes Survey
BC Public Service Exit Survey
Canada-BC Job Grant Outcomes Survey

Diploma, Associate Degree, and Certificate Student Outcomes (DACSO) Survey
FrontCounter BC Customer Satisfaction Survey
Long Term Disability (LTD) Application Process Survey

SDSI LMAPD Monthly Survey 2016-17
Service BC Centres In-Person Survey

You can read more about any of these by visiting our Current and Recent Surveys page.



Did You Know
Tap water was the primary source of drinking water for 79% of B.C. households in 2013, a notably higher proportion than in 2007 (68%). >
Source: Statistics Canada


Headlines
The cost of new housing continued to climb in Vancouver and Victoria.

B.C.'s median income in 2014 is was just below the national average of $55,000.

Wood product manufacting and food manufacturing sales grew in April.