Edition: July 2-5, 2019
Resources
News by Sector
Economy
Government Operations
Multiculturalism
Services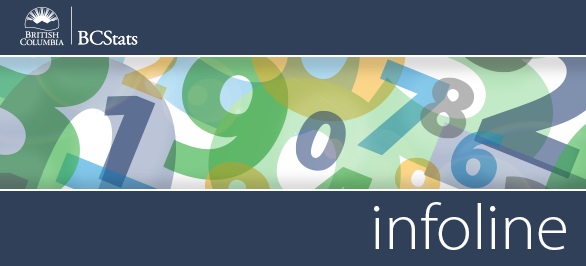 Infoline Highlights: Coverage for the week of July 2-5

Labour Force Survy - The unemployment rate in British Columbia was 4.5% in June for those aged 15 years and over, up 0.2 percentage points from May and down 0.7 percentage points from 12 months ago. Compared to May, the labour force grew (+1,200), but there were fewer jobs (‑3,700). Both areas saw growth over the previous 12 months, with employment up by 109,100 and the labour force adding 96,500 participants.
Read more >>
Exports - Through January to May 2019, the value of B.C. origin exports fell 1.3% compared to the same five-month period a year earlier. Exports to B.C.'s largest trading partner, the United States, dipped 0.4% and there were declines in shipments to Japan (-12.3%), South Korea (‑7.7%), Taiwan (-7.0%) and Hong Kong (-28.8%), while exports to the European Union were virtually unchanged. There was a marginal increase in shipments to Mainland China (+0.6%) and exports to India jumped 36.2%..
Read more >>




Current Surveys
BC Hydro Workforce Profile Survey

BC Prosecution Service Gender Equity and Advancement



BC Public Service Exit Survey
BC Public Service New Job Survey

BC Student Outcomes Survey of Diploma, Associate Degree and Certificate Students

Canada-BC Job Grant Outcomes Survey
FrontCounter BC Customer Satisfaction Survey
Labour Market Agreement for Persons with Disabilities Outcomes Survey


Long Term Disability (LTD) Application Process Survey

WES Pulse Check

Workforce Development Agreement Outcomes

Workforce Development Agreement Employer Outcomes



You can read more about any of these by visiting our Current and Recent Surveys page.



Did You Know
Last week's tremors in B.C. have reminded British Columbians of the importance of being prepared. In 2017, Emergency Preparedness B.C. revealed that only 13% of people surveyed in B.C. had a complete earthquake emergency kit (a written plan as well as supplies), although 54% of respondents had a plan of some kind along with supplies.
Source: CBC


Headlines
B.C.'s unemployment rate was slightly higher in June than May.

B.C. exports between January and May were lower than the same period in 2019.