Edition: July 20-24, 2020
Resources
News by Sector
Economy
Government Operations
Multiculturalism
Services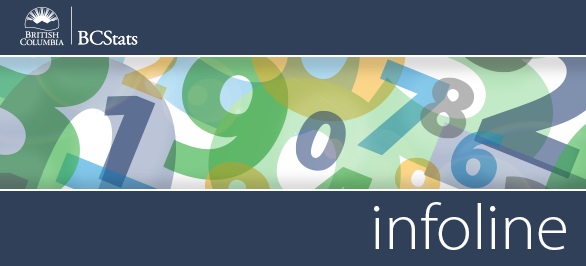 Infoline Highlights for the Week of July 20-24

Visitor Entries - In May, B.C. welcomed around 42 thousand non-resident travellers (seasonally adjusted), of which 76.0% were from the United States. Non-resident traveller entries to Canada through British Columbia went down by 0.2% compared to the previous month and are down by 94.0% when compared to February.
Read more >>
Food Services and Drinking Places - Revenues generated in British Columbia's food service and drinking places industry grew by 42.4% (seasonally adjusted) in May compared to April. Sales for the month were up in all establishment categories, with the largest percentage increases at drinking places and full-service restaurants.
Read more >>
Consumer Price Index - British Columbia's consumer price index (CPI) in June 2020 was 0.5% higher (unadjusted) than in June 2019. On a monthly basis, the CPI rose 0.8% from May 2020.
Read more >>
Building Investment - Investment in building construction (both residential and non-residential) in B.C. grew by 14.4% (seasonally adjusted) in May compared to April. The increase was driven by higher residential construction investment (+23.6%) more than offsetting a small decline in non-residential investment (-1.1%) for the month.
Read more >>
Price of New Housing - The cost of new housing in B.C. went up slightly (+0.1%) in June, although prices remained virtually unchanged for both land and buildings since March. Prices were also unchanged for both land and buildings in each census metropolitan area reported except for Kelowna, were the price of new buildings grew compared to the previous month (+0.7%), bringing overall prices up in Kelowna by 0.4%.
Read more >>
Retail Sales - Retail sales in British Columbia (seasonally adjusted) grew in May by 12.1% compared to April. The increase was widespread across all subcategories, led by motor vehicles and parts dealers.
Read more >>





Current Surveys
BC Hydro Workforce Profile Survey
BC Public Service Exit Survey
BC Public Service New Job Survey

BC Student Outcomes Survey of Diploma, Associate Degree and Certificate Students

Coast Mountain School Board School District 82 Work Environment Survey




Remote Work Sustainability and Work Site Reintegration




Workforce Development Agreement Outcomes

Workforce Development Agreement Employer Outcomes



You can read more about any of these by visiting our Current Surveys page.



Did You Know
60% of Canadians believe that racism is a serious problem in Canada, up 13% from 47% in 2019. This view is most likely to be found in the Prairies (68%), and least likely to be found in B.C. (57%).
Source: Ipsos Canada


Headlines
B.C.'s CPI was slightly higher in June than in May.

The price of new housing was lower in June than June 2019.

Retail sales in B.C. were higher in May than in April.





COVID-19
BC Stats is working to produce data and information that helps government, business and public decision-makers understand the social and economic impacts of COVID-19.