Edition: July 22-26, 2019
Resources
News by Sector
Economy
Government Operations
Multiculturalism
Services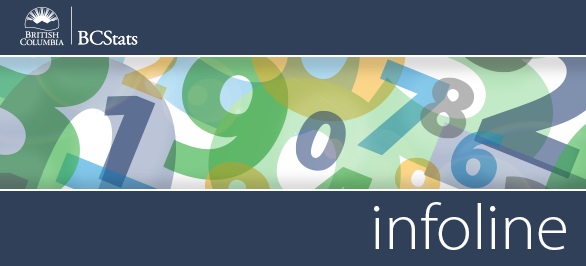 Infoline Highlights for the Week of July 22-26

Average Weekly Earnings - Average weekly earnings of payroll employees in British Columbia (seasonally adjusted, current dollars) jumped $9.28 (+0.9%) to reach $999.85 in May.
Read more >>
Food Services and Drinking Places - Receipts at food services and drinking places in B.C. continued to seesaw in May, inching up 0.1% (seasonally adjusted), following a 0.7% decline in April.
Read more >>
Visitor Entries - Visitor entries to B.C. from the U.S. and overseas increased (+1.3%, seasonally adjusted) for the third straight month in May. Entries from overseas sources jumped 2.0%, and travel to B.C. from the U.S. was also up (+1.1%).
Read more >>
Wholesale Sales - Sales by wholesalers in the province slipped in May (-1.7%) for the first time in three months. The decline was due mostly to lower sales in the motor vehicle (-14.0%) and the miscellaneous (-5.6%) subsectors.
Read more >>
Building Investment
- Total investment in building construction in B.C. surged in May, increasing 13.6% (seasonally adjusted) to reach $3.1 billion. Investment in non-residential building construction in the province was 3.0% higher than in April (to $740 million), as spending on new buildings was up in the industrial (+4.4%), commercial (+3.5%) and institutional (+0.6%) sectors. On the residential side, investment in B.C. was particularly robust (+17.5%, seasonally adjusted) in May.
Read more >>




Current Surveys
BC Hydro Workforce Profile Survey

BC Prosecution Service Gender Equity and Advancement



BC Public Service Exit Survey
BC Public Service New Job Survey

BC Student Outcomes Survey of Diploma, Associate Degree and Certificate Students

Canada-BC Job Grant Outcomes Survey
FrontCounter BC Customer Satisfaction Survey
Labour Market Agreement for Persons with Disabilities Outcomes Survey


Long Term Disability (LTD) Application Process Survey

WES Pulse Check

Workforce Development Agreement Outcomes

Workforce Development Agreement Employer Outcomes



You can read more about any of these by visiting our Current and Recent Surveys page.



Did You Know
One in three (30%) British Columbian parents say their child will read more in the summer than they did during the school year.
Source: Ipsos Canada


Headlines
Tourist visits to B.C. climb in May

May was a robust month for investment in building construction in B.C.

Wholesale sales slip in May