Edition: July 23, 2018
Resources
News by Sector
Economy
Government Operations
Multiculturalism
Services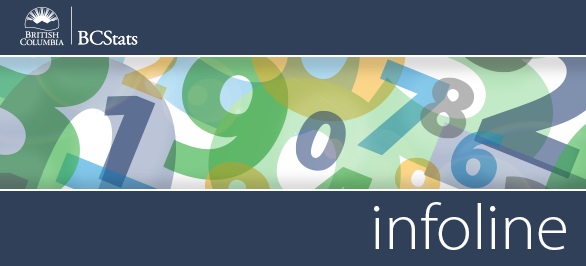 Infoline Highlights: Coverage for the week of July 16-20

Consumer Price Index - British Columbia's consumer price index (CPI) rose 2.7% (unadjusted) in June compared to the same month of the previous year. The rate of inflation was up 0.2% from May 2018.
Read more >>
Retail Sales - Retail sales in British Columbia increased 0.8% (seasonally adjusted) in May, climbing to $7.3 billion. Nationally, retail sales rebounded in May, up a solid 2.0%, following a lacklustre April (-0.9%).
Read more >>
Non-residential Building Investment - Investment in non-residential building construction in B.C. increased a moderate 2.8% (seasonally adjusted) in the second quarter of 2018. Spending on new buildings climbed in the industrial (+9.6%), commercial (+2.6%) and institutional (+0.2%) sectors.
Read more >>
Employment Insurance - The number of regular Employment Insurance (EI) recipients in B.C. decreased (-2.2% seasonally adjusted) to 41,020 in May. The number of male beneficiaries dropped 2.5% and there was also a decline among female recipients (-1.8%).
Read more >>
Manufacturing Sales - B.C. manufacturing sales (seasonally adjusted) went up by 3.2% in May compared to April. Higher sales of electrical equipment, appliance and components (+19.4%), wood products (+9.2%) and fabricated metal products (+5.2%) contributed most to the monthly gain.
Read more >>



@BCStats on Twitter
Non-residential building investment rose (2.8%) in B.C. over the second quarter of 2018, with spending increasing in the industrial (+9.6%), commercial (+2.6%) and institutional (+0.2%) sectors.

Follow @BCStats on Twitter


Current Surveys
BC Apprenticeship Discontinuers Survey
BC Assessment Employee Engagement Pulse Survey

B.C. Cannabis Use Survey

BC Hydro Workforce Profile Survey
BC Public Service Exit Survey
BC Student Outcomes Survey of Apprenticeship and Trades Training Students
BC Student Outcomes Survey of Diploma, Associate Degree and Certificate Students
Canada-BC Job Grant Outcomes Survey
FrontCounter BC Customer Satisfaction Survey
New Job Survey
Online Games Survey

School District #62 (Sooke) Work Environment Survey
Social Development and Poverty Reduction (SDPR) LMAPD Monthly Survey
Survey on Skills, Competencies and Characteristics for Future Workforce
You can read more about any of these by visiting our Current and Recent Surveys page.



Did You Know
In 2017, police-reported crime, based on the Criminal Severity Index as well as the crime rate, rose in Canada for the third year in a row. B.C. was one of four provinces where police-reported crime dropped (-5%), and Vancouver had one of the highest decreases (-6%) across Canada's census metropolitan areas.
Source: Statistics Canada



Headlines
B.C.'s CPI rose in June compared to June 2017.

Retail sales in B.C. rose in May from the month before.

The number of people in B.C. receiving Employment Insurance (EI) benefits dropped in May compared to April.