Edition: July 24, 2017
Resources
News by Sector
Economy
Government Operations
Multiculturalism
Services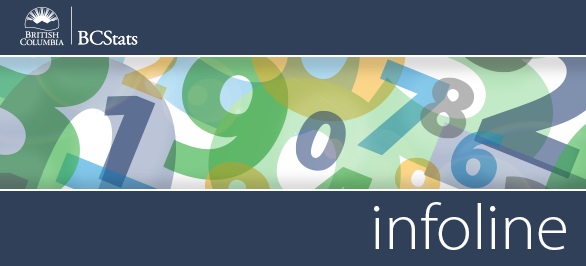 Infoline Highlights: Coverage for the week of July 17-21

Retail Sales - British Columbia's retailers saw a 2.6% increase in sales in May, reflecting improved sales at the province's new car dealers, as well as (to a lesser extent) building materials, and garden equipment and supplies dealers.
Read more >>
Consumer Price Index (CPI) - British Columbia's consumer price index (CPI) climbed 1.7% (unadjusted) in June compared to the same month of the previous year. This marks a small decrease in the year-over-year rate of inflation since May, when it was 1.9 %.
Read more >>
Bankruptcies - The number of bankruptcies registered by B.C. consumers fell 16.6% in April, compared to the same month a year earlier. Business bankruptcies in the province dropped 9.1% in the same period, although that amounted to only one less bankruptcy.
Read more >>
Agriculture - The area in B.C. dedicated to growing greenhouse products climbed notably in 2016 (+4.0%), expanding to 58 million square feet. Sales of greenhouse products grown in the province exceeded $659 million last year, up from $657 million in 2015.
Read more >>
Wine, Beer and Spirits - British Columbians aged 15 years and over spent an average of $787 on beer, wine and spirits in 2015/16. While Newfoundland and Labrador ($997) was the only province with higher per capita sales of alcoholic beverages than B.C., spending in the Yukon ($1,162) and Northwest Territories ($1,419) was also well above the national average ($734).
Read more >>
Exports - The value of B.C. origin exports jumped 23.7% over the first five months of 2017, compared to the same period a year earlier. There were significant increases to most of B.C.'s major trading partners, including robust growth of 15.9% to B.C.'s largest export partner, the United States. Shipments to the European Union soared 60.3%, partially driven by a 152.6% spike in exports to Germany.
Read more >>




Current Surveys
Apprenticeship Student Outcomes (APPSO) Survey
Baccalaureate Graduate Survey
BC Hydro Workforce Profile Survey
BC Public Service Exit Survey
Canada-BC Job Grant Outcomes Survey
Diploma, Associate Degree, and Certificate Student Outcomes (DACSO) Survey
FrontCounter BC Customer Satisfaction Survey
Labour Market Agreement for Persons with Disabilities Outcome Survey
Long Term Disability (LTD) Application Process Survey
SDSI LMAPD Monthly Survey 2016-17
You can read more about any of these by visiting our Current and Recent Surveys page.



Did You Know
In 2015, 77% of Canadian households with a garden said they watered it during the summer. In B.C, this number rose to 86%, the highest of the provinces.
Source: Statistics Canada


Headlines
The value of B.C.'s energy product exports soared in the first five months of 2017.

The cost of shelter in B.C. rose in June.

B.C.'s greenhouse industry is the second largest in Canada.