Edition: July 25, 2016
Resources
News by Sector
Economy
Government Operations
Multiculturalism
Services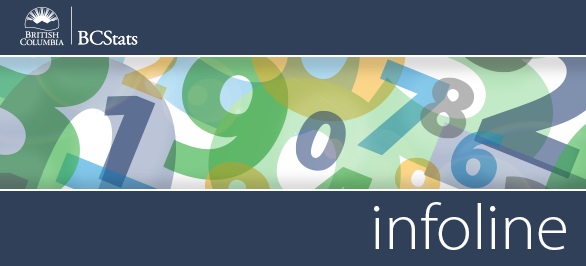 Infoline Highlights: Coverage for the week of July 11-15

Consumer Price Index Highlights - British Columbia's consumer price index (CPI) climbed 2.0% (unadjusted) in June, compared to the same month of the previous year.
Read more >>
Manufacturing Sales - Sales of goods produced by British Columbia's manufacturing sector rebounded in April, rising 1.1% (seasonally adjusted), on the heels of a 1.3% drop in March.
Read more >>

Retail Sales - British Columbia's retailers registered a slight (+0.1%, seasonally adjusted) increase in sales in May, reflecting improved sales at the province's gasoline stations and beer, wine and liquor stores.
Read more >>
Employment Insurance - The number of B.C. residents receiving regular Employment Insurance (E.I.) payments totalled 51,770 (seasonally adjusted) in May, a 1.8% increase from April.
Read more >>

Wholesale Sales - Wholesale sales in British Columbia rose 1.0% (seasonally adjusted) in May, marking the second month of growth in the sector.
Read more >>

Visitor Entries - Visitor entries to B.C. slipped (-5.6%, seasonally adjusted) in May, due to reduced visitor traffic from the United States (-3.5%) and overseas (-9.6%).
Read more >>

Crime - Police-reported crime in British Columbia increased slightly in 2015 with both the traditional crime rate (+3%) and the Crime Severity Index (+4%) climbing.
Read more >>



@BCStats on Twitter
The number of British Columbians receiving E.I. benefits climbed 1.8% in May.
Follow @BCStats on Twitter


Current Surveys
Apprenticeship Student Outcomes (APPSO) Survey
Baccalaureate Graduate Survey
BC Hydro Workforce Profile Survey
BC Labour Market Agreement Outcomes Survey
BC Public Service Exit Survey
Canada-BC Job Grant Outcomes Survey

Diploma, Associate Degree, and Certificate Student Outcomes (DACSO) Survey
FrontCounter BC Customer Satisfaction Survey
Long Term Disability (LTD) Application Process Survey

SDSI LMAPD Monthly Survey 2016-17
Service BC Centres In-Person Survey

You can read more about any of these by visiting our Current and Recent Surveys page.



Did You Know
The volume of milk and cream sold in May declined 0.8% from the same month the previous year to 226 496 kilolitres. >
Source: Statistics Canada


Headlines
CPI has slightly increased in the year-over-year rate of inflation since May, when it was 1.7%.

Visitors from Asia (-7.0%) and Europe (-3.1%) were down in May.

Wholesale sales rose across the provinces in May except for in Alberta.