Edition: July 27-31, 2020
Resources
News by Sector
Economy
Government Operations
Multiculturalism
Services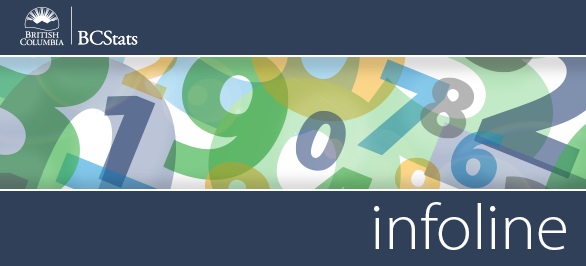 Infoline Highlights for the Week of July 27-31

Gross Domestic Product - Canadian real GDP by industry at basic prices rose 4.5% in May, following two consecutive months of declines as provinces and territories started to ease of COVID-19 restrictions and allow sectors of their economies to reopen. Real GDP in goods-producing industries increased 8.0%.
Read more >>
Industrial Product Price Index - Canadian manufacturers' prices were 3.1% lower this June than in the same month of 2019. A 29.7% year-over-year decline in the price of energy and petroleum products was the largest contributor to the overall decrease, and price drops for chemical (-4.5%) and pulp and paper (-1.5%) products also exerted downward pressure.
Read more >>
Building Permits - The value of building permits issued by B.C. municipalities surged 35.3% (seasonally adjusted) in June, reaching pre-COVID 19 levels. The boost reflects a 20.4% surge in residential permits in June, due to large projects such as the Oakridge Centre redevelopment project in Vancouver, coupled with a 93.3% jump in the value of permits in the non-residential sector.
Read more >>
CFIB Business Barometer Index -The Canadian Federation of Independent Business (CFIB) uses results from a survey of its members to create the Business Barometer Index, which measures small business performance expectations for the next twelve months. According to CFIB, an index above 50 signifies that owners that expect their business to perform better in the next year outnumber those that expect a weaker performance.
Read more >>
Average Weekly Earnings - Average weekly earnings of payroll employees in British Columbia (seasonally adjusted, current dollars) went up in May (+1.6%) compared to the previous month, to reach $1,123.79. Compared to May 2019, average weekly earnings in British Columbia increased by 12.2%, the highest gain in dollar terms among provinces.
Read more >>





Current Surveys
BC Hydro Workforce Profile Survey
BC Public Service Exit Survey
BC Public Service New Job Survey

BC Student Outcomes Survey of Diploma, Associate Degree and Certificate Students

Workforce Development Agreement Outcomes

Workforce Development Agreement Employer Outcomes



You can read more about any of these by visiting our Current Surveys page.



Did You Know
Finding a vaccine for COVID-19 is very important to Canadians, with 75% of them agreeing with the statement "Life in my community will not get back to normal until most people are vaccinated". British Columbians (81%) were most likely to feel this way, while people in Manitoba and Saskatchewan (64%) were the least likely.
Source: Angus Reid


Headlines
Canada's GDP rose in May compared to the month before.

The value of B.C.'s building permits jumped up in June from May.

Average weekly earnings for B.C. payroll employees were higher in May than in May 2019.





COVID-19
BC Stats is working to produce data and information that helps government, business and public decision-makers understand the social and economic impacts of COVID-19.