Edition: July 29-Aug 2, 2019
Resources
News by Sector
Economy
Government Operations
Multiculturalism
Services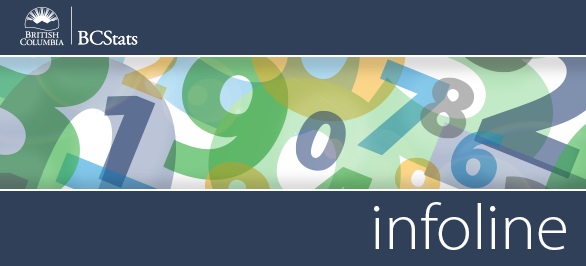 Infoline Highlights for the Week of July 29 - August 2

Exports - The value of B.C. origin exports declined 2.0% over the first two quarters of 2019, compared to the same six-month period a year earlier. This was due in part to a 1.5% decrease in shipments to B.C.'s largest customer, the United States.
Read more >>
Gross Domestic Product - The Canadian economy continued to expand in May. Real GDP advanced 0.2% (seasonally adjusted), the third month of consecutive solid gains since March (+0.5%). The growth was mainly attributable to a 1.2% rebound in the manufacturing sector.
Read more >>
Industrial Product Price Index - Canadian manufacturers' prices were lower (-1.7%) this June than in the same month of 2018. An 8.9% year-over-year downturn in the price of energy and petroleum products was the largest contributor to the overall decrease.
Read more >>
Bankruptcies - There were 375 bankruptcies filed by consumers in British Columbia in May, a slight (-5.3%) decrease from the same month of 2018. Meanwhile, the number of business bankruptcies was higher, climbing 16.7% to seven.
Read more >>




Current Surveys
BC Hydro Workforce Profile Survey
BC Public Service Exit Survey
BC Public Service New Job Survey

BC Wildfire Service Auxiliary Work Environment



Canada-BC Job Grant Outcomes Survey
FrontCounter BC Customer Satisfaction Survey
Labour Market Agreement for Persons with Disabilities Outcomes Survey


Long Term Disability (LTD) Application Process Survey

WES Pulse Check

Workforce Development Agreement Outcomes

Workforce Development Agreement Employer Outcomes



You can read more about any of these by visiting our Current and Recent Surveys page.



Did You Know
There are 34 distinct Indigenous languages in B.C., but only 3% of B.C.'s First Nations population speak these languages fluently. However, this is changing - since 2014, the number of fluent speakers under the age of 24 years has more than doubled.
Source: CBC


Headlines
B.C.'s exports decreased in the first half of 2019 compared to the same period in 2018.

Canada's GDP grew in May for the third month in a row.

May saw fewer consumer bankrupcies in B.C. compared to May 2018.