Edition: July 30, 2018
Resources
News by Sector
Economy
Government Operations
Multiculturalism
Services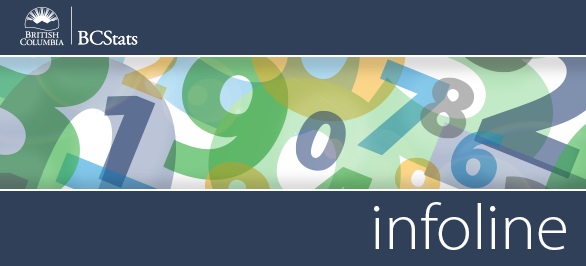 Infoline Highlights: Coverage for the week of July 23-27

Wholesale Sales - Wholesale sales in the province rose 1.9% (seasonally adjusted) in May. Strong sales in four subsectors, led by the machinery, equipment and supplies subsector, explained much of the increase.
Read more >>
Food Services and Drinking Places - Receipts at food services and drinking places in B.C. continued to seesaw in May, climbing 2.4% (seasonally adjusted), following a 1.9% decline in April.
Read more >>
Average Weekly Earnings -Average weekly earnings (including overtime) of payroll employees in British Columbia were $959.86 in May (seasonally adjusted, current dollars), $7.11 higher than in the previous month (+0.7%).
Read more >>


@BCStats on Twitter
Payroll employees' average weekly earnings rose $7.11 (+0.7%) over the previous month, particularly in the goods-producing sector (+2.7%).

Follow @BCStats on Twitter


Current Surveys
BC Apprenticeship Discontinuers Survey
BC Assessment Employee Engagement Pulse Survey

B.C. Cannabis Use Survey

BC Hydro Workforce Profile Survey
BC Public Service Exit Survey
BC Student Outcomes Survey of Apprenticeship and Trades Training Students
BC Student Outcomes Survey of Diploma, Associate Degree and Certificate Students
Canada-BC Job Grant Outcomes Survey
FrontCounter BC Customer Satisfaction Survey
New Job Survey
Online Games Survey

School District #62 (Sooke) Work Environment Survey
Social Development and Poverty Reduction (SDPR) LMAPD Monthly Survey
Survey on Skills, Competencies and Characteristics for Future Workforce
You can read more about any of these by visiting our Current and Recent Surveys page.



Did You Know
Okanagan Falls is the second and newest wine geographic sub-appellation in B.C. Okanagan Falls, includes about 150 hectares of vineyards that produce over 1,100 tonnes of grapes per year. Geographic appellations help consumers identify wines in the marketplace, provide assurance as to the origin and quality of the wine, and promote agri-tourism.
Source: BC Ministry of Agriculture



Headlines
Wholesale sales in B.C. went up in May compared to the previous month.

Receipts at food services and drinking places in B.C. rose in May.

Average weekly earnings of payroll employees in B.C. grew in May compared to April.