Edition: July 4, 2016
Resources
News by Sector
Economy
Government Operations
Multiculturalism
Services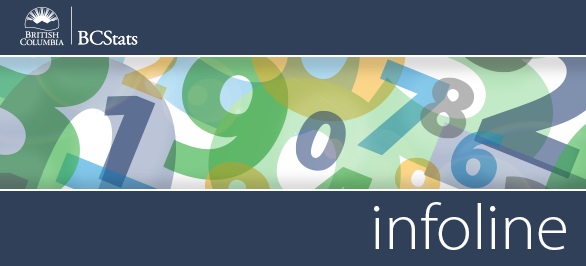 Infoline Highlights: Coverage for the week of June 27-July 1

GDP by Industry - After losing ground earlier in the year, the Canadian economy inched ahead (+0.1%, seasonally adjusted, in chained 2007 dollars) in April.
Read more >>
Industrial Product Price Index (IPPI) - Canadian manufacturers' prices were slightly lower (-1.1%) this May than in the same month of 2015.
Read more >>

Food Services and Drinking Places - Receipts at food services and drinking places in the province climbed 1.4% (seasonally adjusted) in April.
Read more >>
Bankruptcies - The number of bankruptcies registered by B.C. businesses (-8.3%) and consumers (-16.3%) dropped in April of 2016 from the same period a year prior.
Read more >>


@BCStats on Twitter
B.C. consumer (-16.3%) and business (-8.3%) bankruptcies were down notably in April over the same month last year.
Follow @BCStats on Twitter


Current Surveys
Apprenticeship Student Outcomes (APPSO) Survey
Baccalaureate Graduate Survey
BC Hydro Workforce Profile Survey
BC Labour Market Agreement Outcomes Survey
BC Public Service Exit Survey
Canada-BC Job Grant Outcomes Survey

Diploma, Associate Degree, and Certificate Student Outcomes (DACSO) Survey
FrontCounter BC Customer Satisfaction Survey
Long Term Disability (LTD) Application Process Survey

SDSI LMAPD Monthly Survey 2016-17
Service BC Centres In-Person Survey

You can read more about any of these by visiting our Current and Recent Surveys page.



Did You Know
18.3% of the Canadian population aged 5 and older can conduct a conversation in English and French.
Source: Statistics Canada


Headlines
B.C.'s GDP climbed .1% in April

Canadian manufacturer's prices dropped slightly (-1.1%) in May

B.C. restaurants and bars sold 1.4% more in April