Edition: July 6-10, 2020
Resources
News by Sector
Economy
Government Operations
Multiculturalism
Services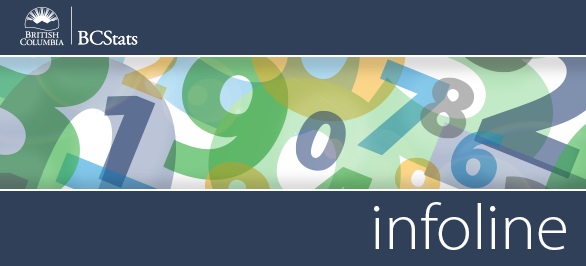 Infoline Highlights for the Week of July 6-10

Labour Force Survey - The unemployment rate in British Columbia was 13.0% in June, down 0.4 percentage points from May and up 8.4 percentage points from 12 months ago. In June, the labour force increased (+125,500) for the second month in a row, after substantial declines in March and April, while the number of jobs grew as well (+118,100).
Read more >>
Housing Starts - Housing starts in urban areas (areas with population of at least 10,000) in British Columbia fell by 0.1% (seasonally adjusted at annual rates) in June compared to May. A decrease in starts of multiple-family dwellings (-0.7%) more than offset the increase in single-detached (+2.9%) housing starts in the month.
Read more >>
Business Incorporations - The number of new business incorporations in B.C. municipalities inched down 4.7% (unadjusted) in June, compared to the same month of 2019. Decreases were seen in several areas of the province, including the Capital (-27.0%) and Greater Vancouver (-5.0%) regional districts.
Read more >>





Current Surveys
BC Hydro Workforce Profile Survey
BC Public Service Exit Survey
BC Public Service New Job Survey

BC Student Outcomes Survey of Diploma, Associate Degree and Certificate Students

Coast Mountain School Board School District 82 Work Environment Survey




Remote Work Sustainability and Work Site Reintegration




Workforce Development Agreement Outcomes

Workforce Development Agreement Employer Outcomes



You can read more about any of these by visiting our Current Surveys page.



Did You Know
Although restrictions designed to protect Canadians from contracting COVID-19 are slowly being relaxed by the provinces, Canadians are still maintaining various precautionary measures. Residents of B.C. and the Atlantic provinces are the most likely to avoid crowds (90%), while Ontarians are most likely to wear a mask in public places (78%).
Source: Statistics Canada


Headlines
Unemployment in B.C. dipped slightly between May and June.

B.C. housing starts slowed in June from the month before.

B.C. business incorporations decreased in June compared to June 2019.





COVID-19
BC Stats is working to produce data and information that helps government, business and public decision-makers understand the social and economic impacts of COVID-19.