Edition: July 8-12, 2019
Resources
News by Sector
Economy
Government Operations
Multiculturalism
Services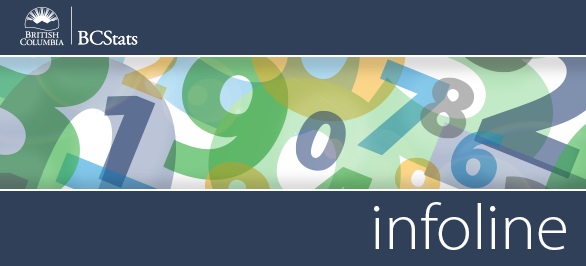 Infoline Highlights for the Week of July 2-5

Household Income - In 2017, the median after-tax income for all types of households (including both economic families of two or more persons and unattached individuals) in British Columbia was $52,120 (2017 constant dollars, includes employment income, dividend and interest income, government transfers, pension income and other income).
Read more >>
Price of New Housing -The cost of new housing in the province's three largest cities was lower in May than in the same month last year. The 1.4% decrease in Victoria was the result of a decline in housing prices (-2.3%), as land value (+0.7%) climbed. Vancouver's New Housing Price Index dipped 0.9%, also reflecting lower housing costs (-1.8%) and higher land values (+0.4%).
Read more >>
Building Permits - The value of building permits in B.C. decreased 49.8% in May from the previous month. An increase in permits for institutional (+118.2%) buildings could not offset decreases for residential (‑63.0%), industrial (‑43.7%), and commercial (‑17.7%) projects. The value of permits was lower in Vancouver (‑55.6%), where most of the province's building activity occurs, as well as in Abbotsford-Mission (‑40.5%), Kelowna (‑32.2%), and Victoria (‑25.6%).
Read more >>





Current Surveys
BC Hydro Workforce Profile Survey

BC Prosecution Service Gender Equity and Advancement



BC Public Service Exit Survey
BC Public Service New Job Survey

BC Student Outcomes Survey of Diploma, Associate Degree and Certificate Students

Canada-BC Job Grant Outcomes Survey
FrontCounter BC Customer Satisfaction Survey
Labour Market Agreement for Persons with Disabilities Outcomes Survey


Long Term Disability (LTD) Application Process Survey

WES Pulse Check

Workforce Development Agreement Outcomes

Workforce Development Agreement Employer Outcomes



You can read more about any of these by visiting our Current and Recent Surveys page.



Did You Know
In B.C., the rate of opioid overdose deaths in the first five months of 2019 was 30% lower than the same period in 2018, and the monthly number of opioid overdose deaths in B.C. also appears to be falling - there were 82deaths in May this year, as opposed to 117 in May 2018. These numbers can change as more post-mortem results come in but experts are expressing "cautious optimism".
Source: CBC


Headlines
In 2017, B.C. was ranked 4th in the country for average household income.

The price of new housing in B.C.'s largest cities dipped slightly in May from May 2018.

The value of building permits in B.C. dropped in May from the month before.