Edition: July 9, 2018
Resources
News by Sector
Economy
Government Operations
Multiculturalism
Services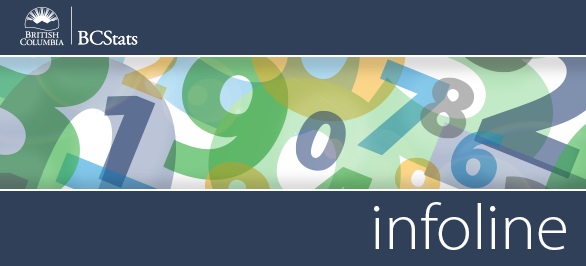 Infoline Highlights: Coverage for the week of July 3-9

Exports - The value of B.C. origin exports edged up 0.4% in the first five months of 2018 compared to January to May 2017, despite a 6.3% drop in shipments to B.C.'s largest trading partner, the United States. Substantial increases in exports to Mainland China (+8.2%), the European Union (+11.9%), India (+62.3%) and Taiwan (+25.6%) helped offset the drop in shipments to the U.S., as well as some other major destinations, such as Japan (-5.3%) and South Korea (-4.0%).
Read more >>
Labour Force Statistics - The unemployment rate in British Columbia was 5.2% in June, up from 4.8% in May and above the 5.1% from 12 months ago. While the labour force (+2,800) increased since May, the number of employed (‑8,000) contracted. Compared to 12 months ago, both employment (‑20,900) and the labour force (‑18,000) have decreased.
Read more >>
CFIB Business Barometer Index -The Canadian Federation of Independent Business (CFIB) uses results from a survey of its members to create the Business Barometer Index, which measures small business confidence. British Columbia's Business Barometer Index was 58.8 in June, unchanged from the previous month and ranking seventh among provinces.
Read more >>


@BCStats on Twitter
B.C.'s Business Barometer Index, a measure of small business confidence based on the CFIB members' survey results, was 58.8 in June, unchanged from the previous month and ranking seventh among provinces.

Follow @BCStats on Twitter


Current Surveys
BC Apprenticeship Discontinuers Survey
BC Assessment Employee Engagement Pulse Survey

B.C. Cannabis Use Survey

BC Hydro Workforce Profile Survey
BC Public Service Exit Survey
BC Student Outcomes Survey of Apprenticeship and Trades Training Students
BC Student Outcomes Survey of Diploma, Associate Degree and Certificate Students
Canada-BC Job Grant Outcomes Survey
FrontCounter BC Customer Satisfaction Survey
New Job Survey
Online Games Survey

School District #62 (Sooke) Work Environment Survey
Social Development and Poverty Reduction (SDPR) LMAPD Monthly Survey
Survey on Skills, Competencies and Characteristics for Future Workforce
You can read more about any of these by visiting our Current and Recent Surveys page.



Did You Know
The majority (59%) of working Canadians are willing to relocate, with the right conditions and incentives, for work in another province, with four in ten (38%) of working Canadians ranking B.C. first as their preferred relocation destination, followed by Ontario (17%) and Alberta (16%).
Source: Ipsos Canada



Headlines
The value of B.C.'s exports rose slightly year-to-date to May compared to the first five months of 2017.

B.C.'s unemployment rate increased in June.

The CFIB Business Barometer Index was unchanged between May and June.