Edition: June 1-5, 2020
Resources
News by Sector
Economy
Government Operations
Multiculturalism
Services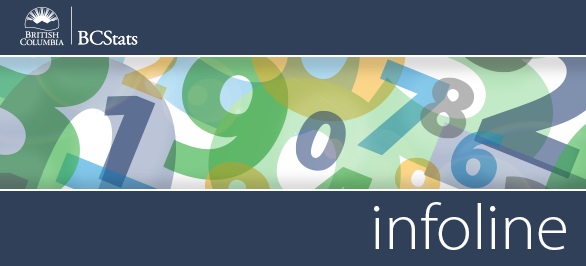 Infoline Highlights for the Week of June 1-5

Labour Force Survey - The unemployment rate in British Columbia was 13.4% in May, up 1.9 percentage points from April and up 9.0 percentage points from 12 months ago. Overall in May, the labour force increased (+103,000) after several months of decline, while the number of jobs grew as well (+43,300).
Read more >>
Exports -Through the first four months of 2020, B.C. origin exports dropped 14.8% compared to the same period in 2019, driven down by the combination of rail blockades earlier in the year and the global pandemic more recently. Exports were down to most of B.C.'s major trading partners
Read more >>
Business Incorporations-Compared to the same month of 2019, the number of new business incorporations in B.C. municipalities was down 24.7% (unadjusted) in May. Declines were widespread among most areas of the province, including the Capital (-21.7%), Central Okanagan (-24.9%), Greater Vancouver (-26.4%) and Fraser Valley (-19.2%) regional districts.
Read more >>
Bankruptcies - Consumers filed 197 bankruptcies in British Columbia in April, a decrease of 41.2% compared to April 2019. There were fewer business bankruptcies amounting for three businesses in the province, compared to eleven in the same month last year (-72.7%).
Read more >>
GDP: Provinces and Territories - British Columbia's economy expanded 2.8% in 2019, the third leading province in terms of real GDP growth. Nationally, real GDP increased 1.7%. Prince Edward Island (+4.5%), Newfoundland and Labrador (+4.0%), British Columbia (+2.8%), Quebec (+2.7%), Nova Scotia (+2.1%), Ontario (+1.9%) and Nunavut (+6.1%) all surpassed the national growth rate.
Read more >>




Current Surveys
BC Hydro Workforce Profile Survey
BC Public Service Exit Survey
BC Public Service New Job Survey

BC Student Outcomes Survey of Apprenticeship and Trades Training Students




BC Student Outcomes Survey of Diploma, Associate Degree and Certificate Students

HealthLink BC 2020 Work Environment Survey

School District #62 (Sooke) 2020 Work Environment Survey




Workforce Development Agreement Outcomes

Workforce Development Agreement Employer Outcomes



You can read more about any of these by visiting our Current Surveys page.



Did You Know
A recent poll showed that only 43% of British Columbians feel that current laws and organizational practices protect their personal information, and even fewer (33%) believe that organizations are transparent about how that information is used.
Source: Ipsos


Headlines
Unemployment in B.C. was higher in May than it was in April.

The value of B.C.'s exports in the first four months of 2020 decreased from the same period in 2019.

The number of consumer and business bankruptcies filed in April was lower than in April 2019.





COVID-19
BC Stats is working to produce data and information that helps government, business and public decision-makers understand the social and economic impacts of COVID-19.