Edition: June 10-14, 2019
Resources
News by Sector
Economy
Government Operations
Multiculturalism
Services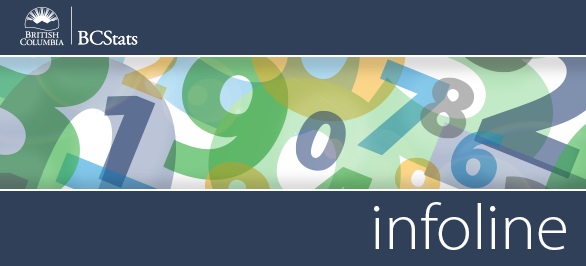 Infoline Highlights: Coverage for the week of June 10-14

Price of New Housing - Relative to the same month of 2018, the cost of new housing in B.C.'s three largest cities declined in April. Home builders in Victoria received 1.0% less for their projects, and the housing price index was also down slightly in Vancouver (-0.6%) and Kelowna (-0.2%).
Read more >>
Bankruptcies - There were 335 bankruptcies filed by consumers in British Columbia in April, a slight (-6.2%) decrease from the same month of 2018. Meanwhile, the number of business bankruptcies was unchanged (+0.0%), at 11.
Read more >>
Building Permits - The value of building permits in B.C. increased 69.4% in April from the previous month. There were increases in permits for residential (+138.0%) and industrial (+19.0%) projects, which offset decreases for institutional (‑58.0%) and commercial (‑2.1%) buildings.
Read more >>




Current Surveys
BC Council on Admissions & Transfer Survey of Mobile Students



BC Hydro Workforce Profile Survey
BC Public Service Exit Survey
BC Public Service New Job Survey
BC Student Outcomes Survey of Apprenticeship and Trades Training Students


BC Student Outcomes Survey of Diploma, Associate Degree and Certificate Students

Canada-BC Job Grant Outcomes Survey
FrontCounter BC Customer Satisfaction Survey
Labour Market Agreement for Persons with Disabilities Outcomes Survey


Long Term Disability (LTD) Application Process Survey

WES Pulse Check

Workforce Development Agreement Outcomes

Workforce Development Agreement Employer Outcomes



You can read more about any of these by visiting our Current and Recent Surveys page.



Did You Know
On June 1, 2019, B.C.'s minimum wage increased from $12.65 per hour to $13.85 per hour, making B.C. the province with the third highest minimum wage in Canada, just behind Alberta and Ontario.
Source: Retail Council of Canada


Headlines
The price of new housing in B.C.'s three largest cities decreased in April from April 2018.

The number of business bankruptcies in B.C. in April was unchanged from the same month the year before.

The value of B.C.'s building permits in April increased from March.