Edition: June 11, 2018
Resources
News by Sector
Economy
Government Operations
Multiculturalism
Services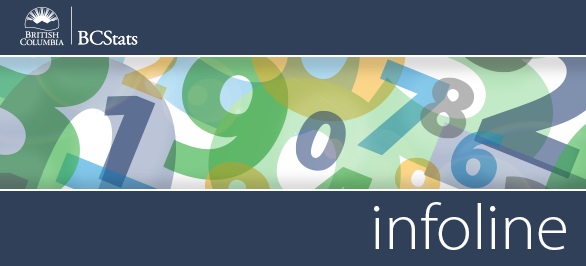 Infoline Highlights: Coverage for the week of June 4 - 8

Labour Force Statistics - The unemployment rate in British Columbia was 4.8% in May, down from 5.0% in April and below the 5.6% from 12 months ago. Both the labour force (‑19,200) and the number of employed (‑12,400) contracted since April. Compared to 12 months ago, employment has increased (+3,500) and the labour force declined (‑17,600).
Read more >>
Housing Starts -The number of urban (areas with population of at least 10,000) housing starts in British Columbia inched up 3.0% (seasonally adjusted at annual rates) in May. The increase in total urban housing starts was due entirely to an upturn in multiple-unit housing projects (+4.6%), as the number of single-family detached starts dipped (-2.1%).
Read more >>
Exports - The value of B.C. origin exports edged up 0.1% in the first four months of 2018, compared to the January to April period a year earlier. This was despite the fact that exports to B.C.'s largest trading partner, the United States, fell 8.2%. Growth in shipments to other major destinations, such as Mainland China (+2.0%), Japan (+2.6%), South Korea (+3.1%), the European Union (+14.4%), and India (+89.5%) more than offset the decline in exports to the United States.
Read more >>


@BCStats on Twitter
Metallic mineral product exports jumped 16.6% year-to-date to April, although lumber exports dropped 16.9% during the same period.

Follow @BCStats on Twitter


Current Surveys
BC Apprenticeship Discontinuers Survey
BC Assessment Employee Engagement Pulse Survey

BC Hydro Workforce Profile Survey
BC Public Service Exit Survey
BC Student Outcomes Survey of Apprenticeship and Trades Training Students
BC Student Outcomes Survey of Diploma, Associate Degree and Certificate Students
Canada-BC Job Grant Outcomes Survey
FrontCounter BC Customer Satisfaction Survey
New Job Survey
School District #62 (Sooke) Work Environment Survey
Social Development and Poverty Reduction (SDPR) LMAPD Monthly Survey
Survey on Skills, Competencies and Characteristics for Future Workforce
You can read more about any of these by visiting our Current and Recent Surveys page.



Did You Know
Less than 11% of plastics are recycled in Canada (the global rate is about 9%), and the amount of plastics entering oceans and rivers is significant - in 2010, Canada released about 8,000 tonnes of plastics into waterways, the weight equivalent of 75 Blue Whales. In an effort to address this isse, 116 recycling depots across B.C. have begun collecting additional flexible plastics such as chip bags, mesh containers and zip lock bags, with the program being offered at all B.C recycling depots by January 2019.
Source: Statistics Canada



Headlines
Unemployment in B.C. decreased in April.

B.C.'s urban housing starts grew in May.

The value of B.C. exports rose slightly in the first four months of 2018, compared to the same period the year before