Edition:
Resources
Top News by Sector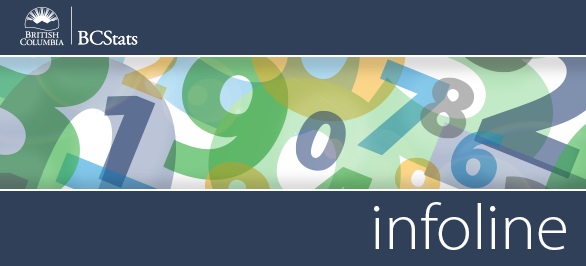 Infoline Highlights: Coverage for the week of June 6 - 10

Labour Force Survey - The unemployment rate in British Columbia was 6.1% in May, up from 5.8% in April, as employment decreased by 8,400, while the labour force contracted by 1,100. Compared to May 2015, the unemployment rate remained at 6.1%, with job creation (+69,500) slightly lagging growth in the labour force (+74,700).
Read more >>
Price of New Housing - The cost of new housing in the province's two largest cities was higher in April than in the same month last year. The 1.3% increase in Victoria was the result of a climb in housing prices (+1.9%), as land value (+0.0%) remained flat. Vancouver's New Housing Price Index jumped 3.9%, also reflecting higher housing costs (+6.3%) and relatively unchanged land values (+0.0%).
Read more >>

Building Permits - The value of building permits issued by B.C. municipalities was up 3.8% (seasonally adjusted) in April, the first increase of 2016. The boost reflects a climb in the value of permits for both the non-residential (+8.2%) and residential (+2.5%) sectors.
Read more >>
Housing Starts - Housing starts in the province's urban centres (with population 10,000 and over), showed continued volatility in May, posting a 22.6% decrease (seasonally adjusted) following a 14.5% boost in April.
Read more >>

Sawmills - Production of softwood lumber at B.C. sawmills was 2.3% higher in March than in the same month of 2015. Mills in both the Coastal (+6.0%) and Interior (+1.8%) regions of the province saw increases in output.
Read more >>


@BCStats on Twitter
Do you know what elder abuse looks like? Go to http://www.gov.bc.ca/elderabuse to find out! #elderabuse #june15 #wearpurple
Follow @BCStats on Twitter


Current Surveys
Apprenticeship Student Outcomes (APPSO) Survey
Baccalaureate Graduate Survey
BC Hydro Workforce Profile Survey
BC Labour Market Agreement Outcomes Survey
BC Public Service Exit Survey
Canada-BC Job Grant Outcomes Survey

Diploma, Associate Degree, and Certificate Student Outcomes (DACSO) Survey
FrontCounter BC Customer Satisfaction Survey
Long Term Disability (LTD) Application Process Survey

SDSI LMAPD Monthly Survey 2016-17

You can read more about any of these by visiting our Current and Recent Surveys page.



Did You Know
In 2015, Ontario and British Columbia were home to over half (57%) of all beekeepers in Canada
Source:Statistics Canada


Headlines
B.C.'s unemployment rate 6.1% in May, up from 5.8% in April

Value of building permits issued by B.C. municipalities climbs 3.8% in April

New housing prices in B.C.'s two largest cities higher in April than in same month of 2015




Share your feedback on the BC Stats Website
BC Stats is improving its website and is looking for feedback. If you're interested in sharing your thoughts, ideas and experience using the BC Stats website, as well as how you access data and statistical information, we want to hear from you.

For more information, please visit the BC Stats Infoline Blog