Edition: June 15-19, 2020
Resources
News by Sector
Economy
Government Operations
Multiculturalism
Services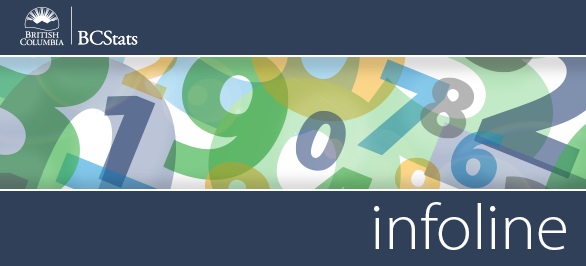 Infoline Highlights for the Week of June 15-19

Retail Sales - With physical distancing measures in full swing, sales by retailers in the province dropped 20.7% (seasonally adjusted) in April, adding to a 3.7% decrease in March. Sales were down in every province, most markedly in Ontario (-32.8%) and Quebec (-27.8%).
Read more >>
Tourism Room Revenues 2019 - Room revenues rose in 2019 compared to 2018 in every community in British Columbia except for Campbell River (-6.5%). As a result, all six tourism regions also reported annual revenue increases in 2019.
Read more >>
Price of New Housing- The cost of new housing in B.C. remained unchanged in May, with prices virtually unchanged for both land and buildings since March. Prices were also unchanged for both land and buildings in in each census metropolitan area reported.
Read more >>
Wholesale Sales - Sales by wholesalers (seasonally adjusted) in British Columbia went down in April to reach $5.3 billion, a 15.0% decrease compared to the previous month. Sales declined in all sub-sectors, with the largest declines in personal and household goods (-21.7%), food, beverage and tobacco (-19.9%) and building materials and supplies (-16.3%) wholesales.
Read more >>
Consumer Price Index- British Columbia's consumer price index (CPI) in May 2020 was 0.2% lower (unadjusted) than in May 2019. On a monthly basis, the CPI rose 0.2% from April 2020.
Read more >>
Civil Court- The Civil Court Survey relates to civil court justice system cases, typically dealing with private disputes between people or organizations. Cases are divided into two main categories: family cases (such as divorce, child custody agreements and child protection) and non-family cases (such as contract and employment disputes, probate proceedings and monetary claims).
Read more >>
MLS Sales - COVID-19 directives for social distancing continued to affect real estate activity in British Columbia in May. However, both listings and sales were up compared to April.
Read more >>
Manufacturing Sales - B.C. manufacturing sales (seasonally adjusted) decreased by 15.2% in April compared to March. The reduction in sales was widespread across most industries, with the largest dollar declines in food (-14.3%), wood products (-11.6%) and machinery (-24.1%) manufacturing.
Read more >>




Current Surveys
BC Hydro Workforce Profile Survey
BC Public Service Exit Survey
BC Public Service New Job Survey

BC Student Outcomes Survey of Apprenticeship and Trades Training Students




BC Student Outcomes Survey of Diploma, Associate Degree and Certificate Students

Coast Mountain School Board School District 82 Work Environment Survey




HealthLink BC 2020 Work Environment Survey

School District #62 (Sooke) 2020 Work Environment Survey




Workforce Development Agreement Outcomes

Workforce Development Agreement Employer Outcomes



You can read more about any of these by visiting our Current Surveys page.



Did You Know
In Canada, one of the issues immigrants and visible minority groups have been facing since the start of the pandemic is that many of them are essential workers, which puts them at higher risk of contracting COVID-19. In 2016, more than a third of Canadian nurse aides, orderlies and patient service associates were immigrants, although they represented less than 1 in 4 people in all other occupations. In Alberta (51.6%) and B.C. (45.2%) immigrants filled almost half of these positions.
Source: Statistics Canada


Headlines
The cost of new housing in B.C. was lower in May than May 2019.

B.C.'s consumer price index was slightly higher in May than April.

The number of civil court cases in B.C. was higher in 2018-2019 than the previous fiscal year.





COVID-19
BC Stats is working to produce data and information that helps government, business and public decision-makers understand the social and economic impacts of COVID-19.