Edition: June 18, 2018
Resources
News by Sector
Economy
Government Operations
Multiculturalism
Services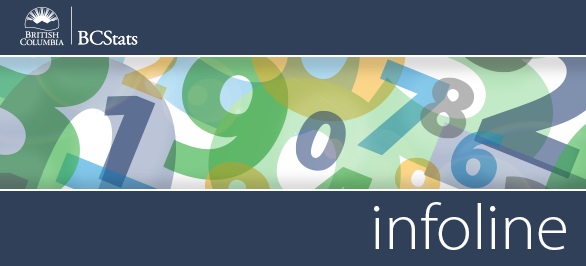 Infoline Highlights: Coverage for the week of June 11 - 15

Quarterly Population Highlights - The population of B.C. was estimated at 4,862,610 as of April 1, 2018, growing by 13,168 persons in the first quarter of 2018 (up 0.27% from January 1, 2018).
Combined net in-migration from all sources
(inter-provincial and international) totalled 12,932 persons during the first quarter of 2018, mostly due to international immigration.
Read more >>
Manufacturing Sales -B.C. manufacturing sales (seasonally adjusted) went down slightly (-0.1%) in April compared to March, led by falling sales of transportation equipment manufacturing (-15.2%). Notable decreases were observed in electrical equipment, appliance and components (-8.1%) and non-metallic mineral product manufacturing
(‑7.7%).
Read more >>
Price of New Housing -Relative to the same month of 2017, the cost of new housing in B.C. continued to climb in April, rising by 6.3%, the largest increase among provinces. Vancouver (+7.1%) reported the largest price increase among all surveyed census metropolitan areas.
Read more >>


@BCStats on Twitter
Between March and April, the cost of new housing in B.C. remained the same, although B.C.'s new housing costs in April had increased 6.3% over the same period in 2017.

Follow @BCStats on Twitter


Current Surveys
BC Apprenticeship Discontinuers Survey
BC Assessment Employee Engagement Pulse Survey

B.C. Cannabis Use Survey

BC Hydro Workforce Profile Survey
BC Public Service Exit Survey
BC Student Outcomes Survey of Apprenticeship and Trades Training Students
BC Student Outcomes Survey of Diploma, Associate Degree and Certificate Students
Canada-BC Job Grant Outcomes Survey
FrontCounter BC Customer Satisfaction Survey
New Job Survey
School District #62 (Sooke) Work Environment Survey
Social Development and Poverty Reduction (SDPR) LMAPD Monthly Survey
Survey on Skills, Competencies and Characteristics for Future Workforce
You can read more about any of these by visiting our Current and Recent Surveys page.



Did You Know
The first organized breast cancer screening program in Canada was implemented in 1988 in British Columbia. The overall five-year net survival for breast cancer ranges from 84% in Prince Edward Island to 88% in British Columbia, Ontario, and New Brunswick.
Source: Canadian Cancer Society



Headlines
The population of B.C. grew in the first quarter of 2018.

B.C. manufacturing sales (seasonally adjusted) went down slightly in April compared to March.

Relative to the same month of 2017, the cost of new housing in B.C. continued to climb in April.