Edition: June 20, 2016
Resources
Top News by Sector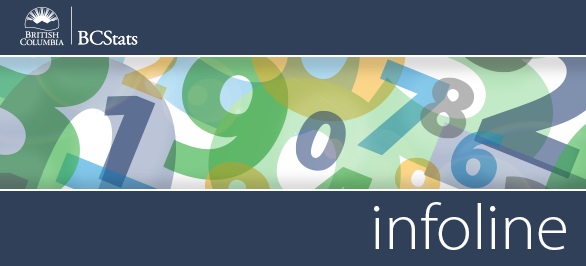 Infoline Highlights: Coverage for the week of June 13 - 17

Population - The population of B.C. was estimated at 4,720,932 as of April 1, 2016, growing by 13,911 persons in the first quarter of 2016 (up 0.3% from January 1, 2016).
Read more >>
Consumer Price Index (CPI) - British Columbia's consumer price index (CPI) climbed 1.7% (unadjusted) in May, compared to the same month of the previous year. This marks a slight decrease in the year-over-year rate of inflation since April, when it was 1.8%.
Read more >>

Organ Donations - In 2014, based on data from the Canadian Institute for Health Information (CIHI), there were 4,573 Canadians awaiting an organ transplant, including 473 in British Columbia. According to BC Transplant, as of May 2, 2016, that number for B.C. has risen to 605 patients awaiting a lifesaving organ transplant.
Read more >>
Manufacturing Sales - Sales in the province's manufacturing sector continued to seesaw in April, registering a 1.3% (seasonally adjusted) decline, following a 3.0% boost in March.
Read more >>



@BCStats on Twitter
Gas prices fell 8.6% in May for the fourth month in a row, on a year-over-year basis.
Follow @BCStats on Twitter


Current Surveys
Apprenticeship Student Outcomes (APPSO) Survey
Baccalaureate Graduate Survey
BC Hydro Workforce Profile Survey
BC Labour Market Agreement Outcomes Survey
BC Public Service Exit Survey
Canada-BC Job Grant Outcomes Survey

Diploma, Associate Degree, and Certificate Student Outcomes (DACSO) Survey
FrontCounter BC Customer Satisfaction Survey
Long Term Disability (LTD) Application Process Survey

SDSI LMAPD Monthly Survey 2016-17
Service BC Centres In-Person Survey

You can read more about any of these by visiting our Current and Recent Surveys page.



Did You Know
Canada will see a dramatic boost in the number of refugees it plans to resettle this year to 55,800, up from a target of 24,800 in 2015.
Source: The Globe and Mail


Headlines
B.C.'s population climbs to estimated 4,720,932 in first quarter of 2016

B.C.'s annual inflation rate inches down to 1.7% in May

Manufacturing sales in B.C. dip 1.3% in April




Share your feedback on the BC Stats Website
BC Stats is improving its website and is looking for feedback. If you're interested in sharing your thoughts, ideas and experience using the BC Stats website, as well as how you access data and statistical information, we want to hear from you.

For more information, please visit the BC Stats Infoline Blog