Edition: June 25, 2018
Resources
News by Sector
Economy
Government Operations
Multiculturalism
Services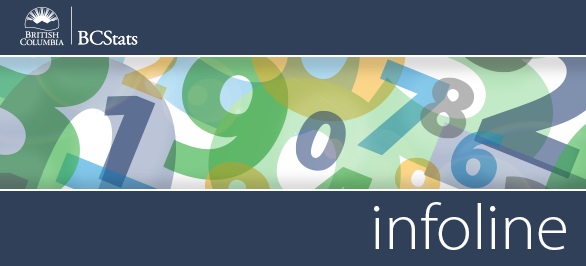 Infoline Highlights: Coverage for the week of June 18 - 22

Consumer Price Index - British Columbia's consumer price index (CPI) rose 2.7% (unadjusted) in May compared to the same month of the previous year. The rate of inflation was up 0.5% from April 2018.
Read more >>
Retail Sales - Retail sales in British Columbia bucked the national trend in April, climbing 1.1% (seasonally adjusted). This marked the third consecutive monthly increase.
Read more >>
Employment Insurance - The number of British Columbians receiving regular Employment Insurance (EI) benefits dropped 3.2% (seasonally adjusted) in April, to 42,100. Nationally, EI beneficiaries inched down 3.4%, to 453,060.
Read more >>
Food Services and Drinking Places - Revenues generated in British Columbia's food service and drinking places industry shrank by 1.7% (seasonally adjusted) in April, led by a decrease in sales in full-service restaurants and limited-service eating places. Sales for the month were higher in drinking places and special food services establishments.
Read more >>
Wholesale Sales - Sales by wholesalers (seasonally adjusted) in British Columbia went up in April to reach $6.6 billion, a 1.6% increase compared to the previous month. The monthly increase was led by building material and supplies merchant wholesales (+8.0%).
Read more >>
Visitor Entries - In April, B.C. welcomed over 688,000 non-resident travellers (seasonally adjusted), of which almost three quarters were from the United States. Non-resident traveller entries to Canada through British Columbia went down (0.3%) compared to the previous month.
Read more >>


@BCStats on Twitter
B.C.'s wholesale sales in April rose 1.6% over the month before, in part due to increased building material and supplies merchant wholesales (+8.0%).

Follow @BCStats on Twitter


Current Surveys
BC Apprenticeship Discontinuers Survey
BC Assessment Employee Engagement Pulse Survey

B.C. Cannabis Use Survey

BC Hydro Workforce Profile Survey
BC Public Service Exit Survey
BC Student Outcomes Survey of Apprenticeship and Trades Training Students
BC Student Outcomes Survey of Diploma, Associate Degree and Certificate Students
Canada-BC Job Grant Outcomes Survey
FrontCounter BC Customer Satisfaction Survey
New Job Survey
School District #62 (Sooke) Work Environment Survey
Social Development and Poverty Reduction (SDPR) LMAPD Monthly Survey
Survey on Skills, Competencies and Characteristics for Future Workforce
You can read more about any of these by visiting our Current and Recent Surveys page.



Did You Know
Single-detached houses account for 44.1% of the close to 1.7 million residential properties in B.C. (as opposed to 64.2% of almost 4.8 million residential properties in Ontario). Just over half (52.9%) of individual resident owners are women, and 54.3% of owners are aged 55 and over.
Source: Statistics Canada



Headlines
B.C.'s CPI increased slightly in May from the month before.

Retail sales in B.C. rose in April for the third month in a row.

The number of EI recipients in B.C. dropped in April.