Edition: June 27, 2016
Resources
Top News by Sector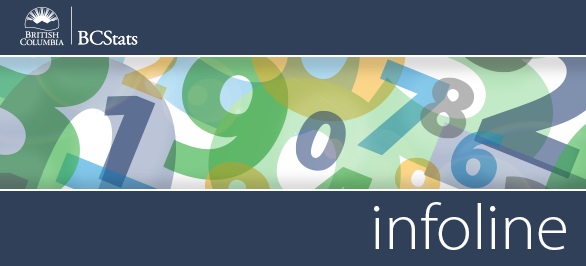 Infoline Highlights: Coverage for the week of June 20 - 24

Wholesale Sales - Wholesalers in British Columbia gained ground in April, with sales climbing 4.4% (seasonally adjusted), more than reversing a 2.5% decline in the previous month.
Read more >>
Retail Sales - Retail sales in B.C. climbed 2.4% to $6.2 billion (seasonally adjusted) between March and April, more than reversing a 1.1% decline recorded in the previous month. Compared to April of last year, retail activity in the province was up even more notably (+7.9%).
Read more >>

Visitor Entries - The total number of travellers arriving in Canada via B.C. increased again (+2.8%, seasonally adjusted) in April. The boost was mainly due to visits from overseas countries, which surged 12.3%.
Read more >>
Employment Insurance - The number of Employment Insurance (EI) claimants receiving regular benefits in British Columbia decreased 2.2% (seasonally adjusted) in April. All four of the province's Census Metropolitan Areas reported declines, the largest being in Vancouver (-3.7%) and Kelowna (-3.5%).
Read more >>

Labour Productivity - Labour productivity (real GDP per hour worked in the business sector) in British Columbia climbed 0.8% in 2015, building on a 2.8% gain in 2014.
Read more >>




Current Surveys
Apprenticeship Student Outcomes (APPSO) Survey
Baccalaureate Graduate Survey
BC Hydro Workforce Profile Survey
BC Labour Market Agreement Outcomes Survey
BC Public Service Exit Survey
Canada-BC Job Grant Outcomes Survey

Diploma, Associate Degree, and Certificate Student Outcomes (DACSO) Survey
FrontCounter BC Customer Satisfaction Survey
Long Term Disability (LTD) Application Process Survey

SDSI LMAPD Monthly Survey 2016-17
Service BC Centres In-Person Survey

You can read more about any of these by visiting our Current and Recent Surveys page.



Did You Know
In 2015, British Columbia was home to an estimated 1,114 centenarians (individuals aged 100 years or more), 940 of whom were women.
Source: Statistics Canada


Headlines
Wholesalers in B.C. see sales climb 4.4% in April

Retail sales in the province increase 2.4% in April

B.C. welcomes 2.8% more visitors in April than in March




Share your feedback on the BC Stats Website
BC Stats is improving its website and is looking for feedback. If you're interested in sharing your thoughts, ideas and experience using the BC Stats website, as well as how you access data and statistical information, we want to hear from you.

For more information, please visit the BC Stats Infoline Blog